CHAIRS AND ARMCHAIRS FOR CONTEMPORARY STYLE COMMUNITY HALLS
MULTI-PURPOSE 4 LEGS SEATING FOR MODERN DESIGN TRAINING AND LEARNING ROOMS
USED FOR:

COMMUNITY ENVIRONMENTS, CONFERENCES, MEETINGS, CONGRESSES, TRAINING AND LEARNING ROOMS, UNIVERSITY, SEMINAR, EXAMS, LECTURE HALLS, PUBLIC SPACES

FEATURES:

STACKABLE, WRITING TABLET, LINKING DEVICE, NESTING CHAIRS, FULLY-UPHOLSTERED

AVAILABLE COVERS:

FIRE RETARDANT FABRIC, VINYL, FULL GRAIN LEATHER, VIRGIN WOOL
ILIKE
I-Like, the stackable chair with tip-up writing tablet and transport dolly (up to 40 pieces) with a light and minimal design. The metal frame highlights the seat and the ergonomic back. ILike chairs can be linked in rows. Comfort linked to a thin and extremely technical structure. The easy stacking of the I-Like with tip-up tablet chair helps saving space in any classroom, room or environment used to host meetings, lessons, courses. The family of stackable chairs for training and learning rooms with folding tablet and dolly I-like is very useful for multipurpose rooms, where activities such as meetings, lessons, courses take place. They can be easily moved to stacks of 40 pieces by means of the transport trolley, and placed in a certain area in variable quantities and then stored in smaller spaces for storage (such as in a basement, in a warehouse or along a corridor).
1.
STACKABLE CHAIR SUITABLE FOR EVERY KIND OF PUBLIC ENVIRONMENT
I-Like brings together a family of stackable chairs for the training room with tablet and dolly. They can be linked in rows and used for the furnishing of training rooms, meetings, lectures, conferences or multipurpose / multifunctional environments. The stackable chair I-like with writing tablet and trolley for training room is ideal for decorating a multipurpose room.
2.
LIGHT BUT STRONG TOP QUALITY MATERIALS AND TEST CERTIFICATIONS
The materials used for the I-Like stackable chair make it extremely light (just 6 kg and therefore easily manoeuvrable) but at the same time very robust as it complies with the EN 15373 level 3 tests. The stackable chair I-Like with tablet for classrooms, training and learning rooms has a transport dolly for moving up to 40 overlapping chairs with or without the writing tablet.
3.
FULL-OPTIONAL PERSONALIZE YOUR CHAIRS ACCORDING TO YOUR NEEDS
I-Like, chairs for training and learning rooms, conventions and courses, available with tip-up tablet and designed for the public administration supply. The family is equipped with various optionals such as a drop-down tablet with HPL writing desk, armrests, linking devices to join the chairs in rows, a dolly for transport, a little basket for documents, etc.
I-LIKE ARMCHAIR FOR TRAINING ROOM IN AR+
View I-Like armchair for training and learning room with augmented reality. Select your device, frame the area of interest from your IOS or Android phone and click to place I-Like armchair for training and meeting room in the space*.
Apple Ios Safari
Android Browser
*Compatible with iPhone 6S or higher and Android smartphones that support the ARCore app.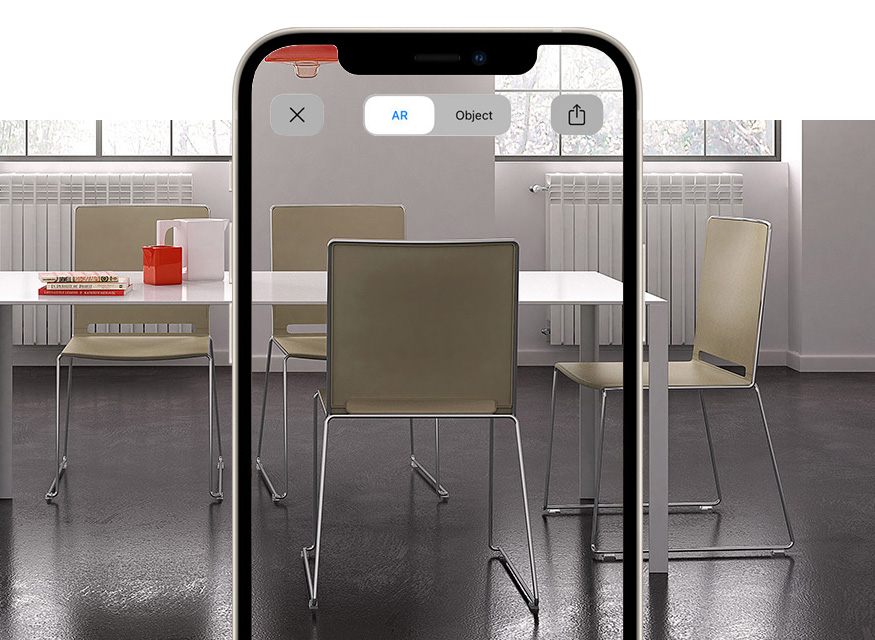 DETAILS
IMAGES AND EMOTIONS
Uses, characteristics, functionality and peculiarities.
Stackable chairs for training room with folding tablet and transport dolly
Alberto Basaglia & Natalia Rota Nodari designed it. Seat and back are made of reinforced polypropylene with thicker edges and anti-UV treatment as a standard. On request, it is possible to apply padded panels to the seat and back to increase the comfort of the seat. The chair with tip-up tablet for training room I-Like consists of a tubular round cold-drawn steel frame, diameter 11 mm, aluminium-grey epoxy polyester coated or chromed.
Read more...
Stackable chairs up to 40 pieces
Stackable chair with tip-up tablet and transport trolley (up to 40 pieces stacked) with a slim and minimal design
Multipurpose armchairs and chairs that help saving space in any classroom, training or learning room, hall or environment to host meetings, lessons, courses
Extremely light chairs (just 6 kg) with padded seat and writing tablet that can be easily moved, placed in the destination area in variable numbers and then kept in smaller spaces for storage
Chairs that can be linked in rows and used for multipurpose, multifunctional and multiuse environments.
Attachable chairs for meeting rooms and conferences with the possibility to have seat and back padded, to increase the comfort of the seat
Lecture hall and community seating, similar models
Stacking dining chairs with mesh on the back Wiki-RE 4G
|
Stacking nesting seating with casters and writing tablet Key-ok
|
Stacking chairs for visitors and waiting areas wiki-4g
|
Stacking dining chairs with chrome legs Wendy
|
Stacking chairs with single wooden shell and linking device Cristallo
|
Stackable design plastic chair for outdoor garden Greta
|
Stacking lecture room seating LaiLa 4 legs
|
Stacking chairs for bars, restaurant and community areas Gardena
|
Stacking chairs for meeting, conference and trainignrooms Valeria
|
Stackable chairs for churches and meeting rooms halI I-Like
|
Stacking folding chairs and seats Arcade
|
Plastic lecture room seating with tip-up tablet LaMia
|
Lecture hall stacking seating with writing tablet Cortina
|
Chairs for cuisine island and living table Zerosedici 4G with wooden legs
|
Multi-use stacking chairs for home-office Zerosedici 4G
|
Training and conference seating with writing tablet Zerosedici sled base
|
Wooden and metal armchair for restaurant lunchrooms Reef 4 legs
|
Chairs for congress and seminar furniture with writing tablet Cosmo
|
Congress and seminar room design chairs Cosmo sled base
|
Conference mesh chairs for social distancing iLike RE
|
Chairs from recycled plastic for training and teaching room Ocean 4G
|
Chairs with tablet from recycled plastic for training room Ocean 4G
|
Armchairs for conventions, congresses and conferences Claire
Similar lecture hall and community seating by purpose
Stacking chairs
|
Linking chairs
|
Seating and stacking chairs for community and congress areas
|
Library chairs and tables for school and classroom furniture
|
Seating solutions for congress, meeting and training-room
|
Seating and stacking chairs for community and congress
|
Visitor and meeting room seating chairs
|
Stackable and folding chairs
|
Bench seating for lobby and reception
|
Conference and meeting armchairs
|
Lecture hall and community bench seating
|
Multipurpose use home office seating
|
Stacking chairs
|
Tables for community centres
|
Timber frame stacking chairs
|
Modern design seating solutions for churches and cathedrals
|
Chairs for restaurants, fastfoods, pubs, bars, catering
|
Lunchroom chairs and stools for restaurant, bar, pub, pizzeria
|
Rest home wooden armchair and nursing seating for hospital
|
Tables and chairs for canteen, self-service, autogrill furniture