CHAIRS AND ARMCHAIRS FOR CONTEMPORARY STYLE COMMUNITY HALLS
MULTI-PURPOSE 4 LEGS SEATING FOR MODERN DESIGN HALLS
USED FOR:

COMMUNTIY ENVIRONMENTS, CONFERENCES, MEETINGS, CONGRESSES, TRAINING AND LEARNING ROOMS, UNIVERSITY, SEMINAR, EXAMS, LECTURE HALLS, PUBLIC SPACES

FEATURES:

STACKABLE, WRITING TABLET, LINKING DEVICE, NESTING CHAIRS, FULLY-UPHOLSTERED

AVAILABLE COVERS:

FIRE RETARDANT FABRIC, VINYL, FULL GRAIN LEATHER, VIRGIN WOOL
cosmo
Cosmo family seating is a functional stacking monocoque chair for congress, seminar and public spaces, available as four legs or sled base. Comfort is ensured by flexible plastic shell that secures the appropiate back inclination according to the user posture and by the soft seat pad (optional). Its modern and bright colours make it easy to find the right area - seminar, congress or training hall - where Cosmo chair can be used. Thanks to Leyform's decades of experience, we can provide you with excellent support with the planning and furnishing of your seminar or conference area, so that the colour, shape and style of your furniture guarantee a relaxed, inspiring and inviting atmosphere.
1.
monocoque a light and colorful multipurpose chair
Cosmo is a monocoque plastic chairs family which is available with fully-upholstered seat, ideal to supply congress and seminar furniture, meeting room, discussion and conversation areas, etc. It uses conveniently positioned writing tablets that make them ideal for training sessions, exam halls, lecture theatres, flexible and multi-purpose conferences and group seminars.
2.
customizable with many options and colors to match
The plastic shell is available in 6 colours ( rust, sage, grey, linen, anthracite, white ) and the seat can be upholstered in fire retardant fabric, leather, vinyl, etc. From classroom to lecture hall, Cosmo chairs are perfect for teaching purposes. Writing tablets and linking devices to align the chair in row will complete this chair, in order to be suitable for all events as a general multy-purpose seat.
3.
stackable contemporary design chair for every use
A monocoque plastic chair, ideal to supply congress and seminar areas. Modern and comfortable, Cosmo chairs for seminars and congresses are available with chromed, black or grey epoxy coated tubular steel frame (diameter 22 mm, thickness 1,8 mm) and it is stackable up to 20 pieces ( also with accessories like arms, writing tablet, etc. ).
COSMO CHAIR WITH WRITING TABLET IN AR+
Cosmo armchair with tip-up writing tablet for congresses, training, learning and seminar rooms with augmented reality. Select your device, frame the area of interest from your IOS or Android phone and click to place 4 legs armchair with tip-up writing tablet in the space*.
Apple Ios Safari
Android Browser
*Compatible with iPhone 6S or higher and Android smartphones that support the ARCore app.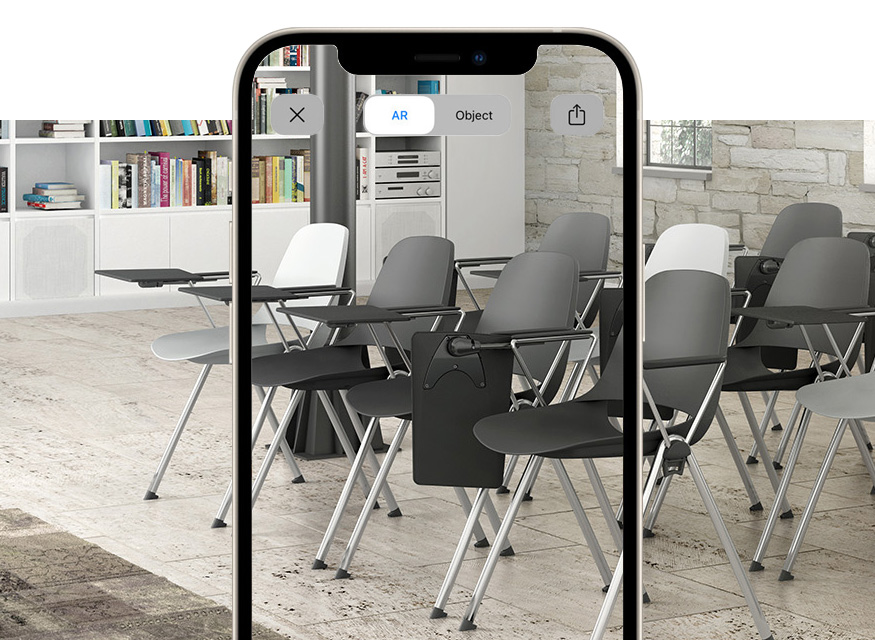 DETAILS
IMAGES AND EMOTIONS
Uses, characteristics, functionality and peculiarities.
Comfortable seminar chairs that are crucial for a successful event
The focus of any seminar, conference or training environment is on the chairs; they instantly attracts the attention of the visitor, as soon as they enter the seminar, learning or conference room. Therefore, the choice of chairs with writing tablet should be considered as one of the core elements of your overall concept of public seating. Whether it is a seminar, conference or a training room, comfortable chairs with writing tablet are crucial for a successful event. Seminar and conference chairs should combine pleasant seats with an attractive look and contribute to a stylish ambience.
Read more...
Ergonomic and easy to move plastic chair for the best comfort
Comfortable monocoque plastic seat and back with writing tablet for seminar, training, learning and conference hall areas
Long-lasting stackable chairs with tablet for discussion and conversation areas
Modern and flexible multi-purpose conference seating for convention areas
A functional stacking monocoque plastic chair that combines pleasant seats with an attractive appearance and then it contributes to furnish a stylish environment
A functional stacking monocoque plastic chair for congress, seminar and public spaces
Leyform is a leading manufacturer and supplier of training room chairs with writing tablets for seminar and conference hall areas that are designed to provide maximum comfort and ease to people. Our goal is to always give you seats for community that can stand out and improve the use of space, creating new ergonomic solutions for the best teaching and learning. In particular, Cosmo family chairs are high in ergonomics, aesthetics design and quality, ensuring confidence to the user. Featuring a sturdy construction for metal frame and lightweight, our plastic monocoque Cosmo training and learning room chairs with writing tablet are also perfect for conference and seminar rooms, classrooms, group seating and multipurpose halls.
Lecture hall and community seating, similar models
Stacking dining chairs with mesh on the back Wiki-RE 4G
|
Stacking nesting seating with casters and writing tablet Key-ok
|
Stacking chairs for visitors and waiting areas wiki-4g
|
Stacking dining chairs with chrome legs Wendy
|
Stacking chairs with single wooden shell and linking device Cristallo
|
Stackable design plastic chair for outdoor garden Greta
|
Stacking lecture room seating LaiLa 4 legs
|
Stacking chairs for bars, restaurant and community areas Gardena
|
Stacking chairs for meeting, conference and trainignrooms Valeria
|
Stackable chairs for churches and meeting rooms halI I-Like
|
Stacking folding chairs and seats Arcade
|
Plastic lecture room seating with tip-up tablet LaMia
|
Lecture hall stacking seating with writing tablet Cortina
|
Chairs for cuisine island and living table Zerosedici 4G with wooden legs
|
Multi-use stacking chairs for home-office Zerosedici 4G
|
Training and conference seating with writing tablet Zerosedici sled base
|
Wooden and metal armchair for restaurant lunchrooms Reef 4 legs
|
Chairs for congress and seminar furniture with writing tablet Cosmo
|
Congress and seminar room design chairs Cosmo sled base
|
Conference mesh chairs for social distancing iLike RE
|
Chairs from recycled plastic for training and teaching room Ocean 4G
|
Chairs with tablet from recycled plastic for training room Ocean 4G
|
Armchairs for conventions, congresses and conferences Claire
Similar lecture hall and community seating by purpose
Stacking chairs
|
Linking chairs
|
Seating and stacking chairs for community and congress areas
|
Library chairs and tables for school and classroom furniture
|
Seating solutions for congress, meeting and training-room
|
Seating and stacking chairs for community and congress
|
Visitor and meeting room seating chairs
|
Stackable and folding chairs
|
Bench seating for lobby and reception
|
Conference and meeting armchairs
|
Lecture hall and community bench seating
|
Multipurpose use home office seating
|
Stacking chairs
|
Tables for community centres
|
Timber frame stacking chairs
|
Modern design seating solutions for churches and cathedrals
|
Chairs for restaurants, fastfoods, pubs, bars, catering
|
Lunchroom chairs and stools for restaurant, bar, pub, pizzeria
|
Rest home wooden armchair and nursing seating for hospital
|
Tables and chairs for canteen, self-service, autogrill furniture