CHAIRS AND ARMCHAIRS FOR CONTEMPORARY STYLE COMMUNITY HALLS
MULTI-PURPOSE 4 LEGS SEATING FOR MODERN DESIGN HALLS
USED FOR:

COMMUNTIY ENVIROnMENTS, CONFERENCES, MEETINGS, CONGRESSES, TRAINING AND LEARNING ROOMS, UNIVERSITY, SEMINAR, EXAMS, LECTURE HALLS, PUBLIC SPACES

FEATURES:

STACKABLE, WRITING TABLET, LINKING DEVICE, NESTING CHAIRS, FULLY-UPHOLSTERED

AVAILABLE COVERS:

FIRE RETARDANT FABRIC, VINYL, FULL GRAIN LEATHER, VIRGIN WOOL
cosmo sled base
When you are going to decorate a meeting or congress room it is most important to evaluate a modern design monocoque conference chairs rated at least for an a use of 8 hour day with industry standards European EN or American Ansi /Bifma Tests. If you purchase residential chairs or chairs that are not rated for public use you are at risk of claims should the chair fail with someone sitting it. Modern conference chairs like Cosmo monocoque are designed and rated for 8 hours and uses a light foam on the ( optional ) padded seat for a better confort. Buying quality chairs like cosmo monocoque is ultimately a cost-saving decision. Modern conference chairs must be a durable product that should warrany a confortable seat also for long session seating - also for 8 hours or more - durring conferencees, meeting and courses.
1.
monocoque modern chair with simple and elegant design
Cosmo is a new community monocoque chair in Leyform catalogue featuring essential lines and clean design combined with important ergonomic back and functional solutions to supply modern multifunctional enviroments and public spaces.
2.
flexible back versatile and light, it allows a total comfort
A special design for the flexible back and the - optional - soft seat pad ensure the maximum comfort, also for long meetings or conferences session of 8 hours or more. Versatile, dynamic and practical, Cosmo community chair is stackable and is made of a plastic monocoque seat/back reinforced with glass fiber .
3.
colorful nice looking and functional plastic chair
Available in the colors rust, sage, grey, linen, anthracite and white, Cosmo monocoque plastic chair becomes a piece of furniture suitable for the new community and interior design for public spaces like hotel conference centres, training rooms, meeting and waiting rooms.
COSMO CONFERENCE CHAIR IN AR+
Modern design monocoque chair with sled base Cosmo for congress and seminar room with augmented reality. Select your device, frame the area of interest from your IOS or Android phone and click to place the Modern design monocoque chair with sled base Cosmo in the space*.
Apple Ios Safari
Android Browser
*Compatible with iPhone 6S or higher and Android smartphones that support the ARCore app.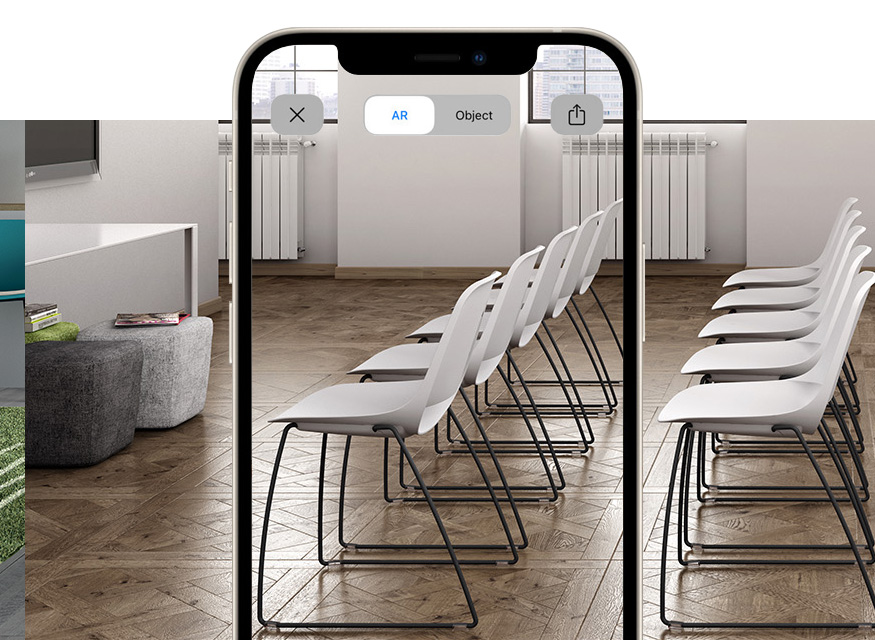 DETAILS
IMAGES AND EMOTIONS
Uses, characteristics, functionality and peculiarities.
A very comfortable community seating with slade base, that use its strength and agility for modern public spaces
Cosmo is the new Leyform plastic monocoque chair proposal for the modern public spaces, a very comfortable community seating with slade base, that has its strength in the agility ( it weight 5,5 kg only ). Cosmo is essential modern design: a soft line defines a slim profile for the monocoque that points out the lines of the plastic shell, making it suitable for different situations like congress hall in hotels, conference centres, meeting rooms and training areas. The monocoque in the colors rust, sage, grey, linen, anthracite and white offers a very modern and cozy seating. The frame is available in black epoxy coated, aluminum grey epoxy coated or chromed finishing. The optional padded seat adds even more comfort in long conferences or meetings. Read more...
Essential lines and clean design, Cosmo monocoque chair combines important ergonomic solutions to supply modern public enviroments
A modern design monocoque conference chairs rated at least for an a use of 8 hour on conferences, seminars, courses rooms and public spasces
Modern conference chairs must be a durable product that should warrany a confortable seat also for long sessions in conferences and congresses
A new community monocoque chair in Leyform catalogue featuring essential lines and clean design combined with important ergonomic and flexible back
An optional soft seat pad ensure a maximum confort, also for long meetings or conferences session of 8 hours or more
A community chair that is stackable and made of a plastic monocoque seat/back reinforced with glass fiber
Lecture hall and community seating, similar models
Stacking dining chairs with mesh on the back Wiki-RE 4G
|
Stacking nesting seating with casters and writing tablet Key-ok
|
Stacking chairs for visitors and waiting areas wiki-4g
|
Stacking dining chairs with chrome legs Wendy
|
Stacking chairs with single wooden shell and linking device Cristallo
|
Stackable design plastic chair for outdoor garden Greta
|
Stacking lecture room seating LaiLa 4 legs
|
Stacking chairs for bars, restaurant and community areas Gardena
|
Stacking chairs for meeting, conference and trainignrooms Valeria
|
Stackable chairs for churches and meeting rooms halI I-Like
|
Stacking folding chairs and seats Arcade
|
Plastic lecture room seating with tip-up tablet LaMia
|
Lecture hall stacking seating with writing tablet Cortina
|
Chairs for cuisine island and living table Zerosedici 4G with wooden legs
|
Multi-use stacking chairs for home-office Zerosedici 4G
|
Training and conference seating with writing tablet Zerosedici sled base
|
Wooden and metal armchair for restaurant lunchrooms Reef 4 legs
|
Chairs for congress and seminar furniture with writing tablet Cosmo
|
Congress and seminar room design chairs Cosmo sled base
|
Conference mesh chairs for social distancing iLike RE
|
Chairs from recycled plastic for training and teaching room Ocean 4G
|
Chairs with tablet from recycled plastic for training room Ocean 4G
|
Armchairs for conventions, congresses and conferences Claire
Similar lecture hall and community seating by purpose
Stacking chairs
|
Linking chairs
|
Seating and stacking chairs for community and congress areas
|
Library chairs and tables for school and classroom furniture
|
Seating solutions for congress, meeting and training-room
|
Seating and stacking chairs for community and congress
|
Visitor and meeting room seating chairs
|
Stackable and folding chairs
|
Bench seating for lobby and reception
|
Conference and meeting armchairs
|
Lecture hall and community bench seating
|
Multipurpose use home office seating
|
Stacking chairs
|
Tables for community centres
|
Timber frame stacking chairs
|
Modern design seating solutions for churches and cathedrals
|
Chairs for restaurants, fastfoods, pubs, bars, catering
|
Lunchroom chairs and stools for restaurant, bar, pub, pizzeria
|
Rest home wooden armchair and nursing seating for hospital
|
Tables and chairs for canteen, self-service, autogrill furniture