MULTI-PURPOSE STACKABLE CHAIR FOR HOME-OFFICE ENVIROMENTS
MODERN DESIGN 4 LEGS ARMCHAIRS FOR COMMUNITY AND TRAINING AREAS
USED FOR:

HOME-OFFICE, KITCHEN, PUBLIC AREAS, LIVING ROOMS, GAME ROOMS, HOTEL, RESTAURANT, BAR

FEATURES:

MODERN AND UNIQUE STYLE, COmFORTABLE SEAT, EASY TO CLEAN, LIGHT AND EASY TO MOVE, STACKABLE, WITH WRITING TABLET

AVAILABLE COVERS:

FIRE RETARDANT FABRIC, ECO-LEATHER, real LEATHER, PVC, VIRGIN WOOL
Zerosedici 4 legs
With its minimal design, Zerosedici is a contemporary design meeting and training seat that gives a modern panache to your home or office furniture. Zerosedici 4 legged stackable chair is part of the multi-purpose Zerosedici armchairs family; this seat is the ideal solution for home-office enviroments but also for cafe, breakout, training and meeting rooms. Moulded from a one-piece high-impact plywood shell, bolted to a super strong tube steel frame, the Zerosedici 4 legged chair is a strong solution for home-office enviroments. Designed by Leyform and developed to withstand home and office spaces on everyday use.
1.
stackable chair made with top quality materials
A sturdy contemporary design 4 legged chair whose excellent qualities make it look good inside your home; it is stackable and comfortable thanks to its padded and upholstered seat, and it offers the possibility of having armrests + writing tip-up tablet for office meetings and training areas.
2.
comfort and freedom of movement are ensured
The seat construction for Zerosedici 4 legged multi-purpose chair ensures a level of comfort that is first revealed upon use: the back shell design provides freedom of movement as well as superb comfort, even for long periods of sitting during training or meeting time but also around a home table when you meet your friends.
3.
a great choice for multipurpose public areas or home rooms
The ideal solution for home-office enviroments and cafe, breakout, training and meeting rooms. The smooth contours and soft upholstery give to Zerosedici 4 legs multi-use stacking chair the ability to transmit its calm, cosy and inviting character, useful for home, office and public enviroments.
ZEROSEDICI 4 LEGS CHAIR IN AR+
View Zerosedici multi-use stacking chairs for home-office with augmented reality. Select your device, frame the area of interest from your IOS or Android phone and click to place Zerosedici 4 legs chair in the space*.
Apple Ios Safari
Android Browser
*Compatible with iPhone 6S or higher and Android smartphones that support the ARCore app.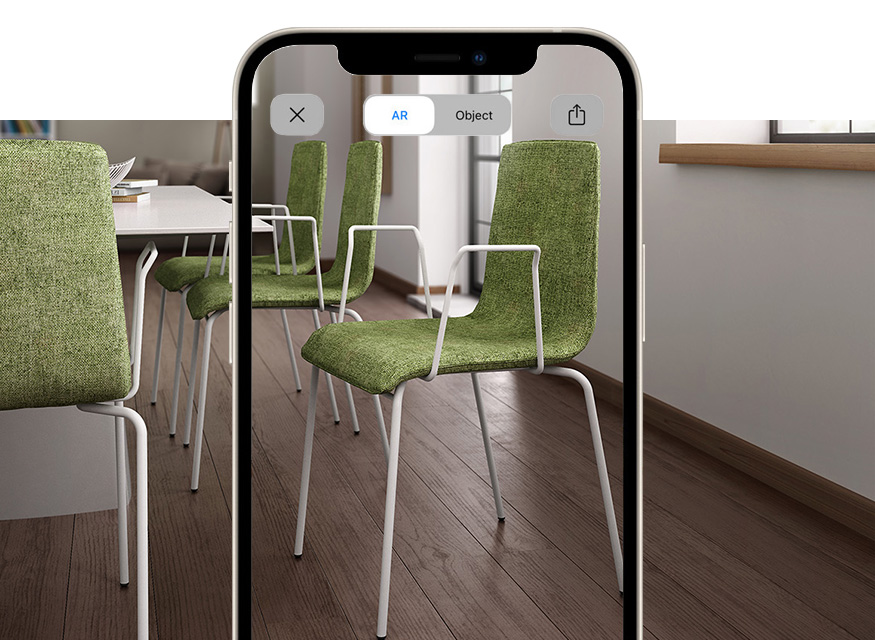 DETAILS
IMAGES AND EMOTIONS
Uses, characteristics, functionality and peculiarities.
Read more...
Zerosedici 4-leg stackable chair, multi-purpose seating for home, office, and public enviroments
A sturdy contemporary design 4 legs stackable chair that is suitable also in home enviroments
Contemporary design meeting and training armchair that gives a modern style to home-office furniture
Stackable chairs that are the ideal solution for home-office enviroments but also for cafe, breakout, training and meeting rooms
A multi-purpose stackable chair that ensures a level of comfort that is first revealed upon use
4 legged chairs that use a shell design which provides freedom of movement as well as superb comfort during training or meeting time
Zerosedici 4-leg multi-use stackable armchair that transmits its calm, cosy and inviting character; useful for home-office and public enviroments
Lecture hall and community seating, similar models
Stacking dining chairs with mesh on the back Wiki-RE 4G
|
Stacking nesting seating with casters and writing tablet Key-ok
|
Stacking chairs for visitors and waiting areas wiki-4g
|
Stacking dining chairs with chrome legs Wendy
|
Stacking chairs with single wooden shell and linking device Cristallo
|
Stacking plastic chars with arms Greta
|
Stacking lecture room seating LaiLa 4 legs
|
Stacking chairs for bars, restaurant and community areas Gardena
|
Stacking chairs for meeting, conference and trainignrooms Valeria
|
Stackable chairs for churches and meeting rooms halI I-Like
|
Stacking folding chairs and seats Arcade
|
Plastic lecture room seating with tip-up tablet LaMia
|
Lecture hall stacking seating with writing tablet Cortina
|
Aluminum lecture hall seating with writing tablet Programma UNO
|
Chairs for cuisine island and living table Zerosedici 4G with wooden legs
|
Multi-use stacking chairs for home-office Zerosedici 4G
|
Training and conference seating with writing tablet Zerosedici sled base
|
Wooden seating for training and conference room Zerosedici Wood
Similar lecture hall and community seating by purpose
Stacking chairs
|
Linking chairs
|
Seating and stacking chairs for community and congress areas
|
Chairs for bar, pub, restaurant, fastfood
|
Chairs and sofas for nursing, rest-home, hotels and medical centres
|
Chairs and stools for hotel, contract and home
|
Chairs for conference, lecture hall and seminar areas
|
Chairs for hotel, congress areas, lecture and church hall
|
Chairs for catering and fastfood
|
Stackable and folding chairs
|
Chairs for restaurant lunchrooms, lounges and breakrooms