HOME-OFFICE TASK ARMCHAIRS
MODERN DESIGN SWIVEL CHAIRS FOR HOME-OFFICE WORKSTATIONS
USED FOR:

HOME-OFFICE, PUBLIC AREAS, LIVING ROOMS, GAME ROOMS, HOTEL, RESTAURANT, BAR

FEATURES:

MODERN AND UNIQUE STYLE, COmFORTABLE SEAT, EASY TO CLEAN, LIGHT CHAIR, SWIVEL, height ADJUSTABLE

AVAILABLE COVERS:

FIRE RETARDANT FABRIC, ECO-LEATHER, real LEATHER, PVC, VIRGIN WOOL
Zerosedici swivel chair
Zerosedici seating is another step forward in making your work area truly personal. The ideal armchair for a home office, where mobility while working makes all the difference compared to a 4 legs chair. The armrests and the base with castors make it seem like an operator or task chair, definitely not complicated but ergonomic and easy to use. What area says more about the corporate culture than the operational offices? Zerosedici swivel armchair offers a wide seat and back to comply with operational and task demands: modern design, comfortable but not extravagant. And all that in first-rate ergonomic design that keeps both body and soul fit.
1.
comfort&design in an elegant and smart swivel office chair
Behind every successful essay, presentation or work project, there is a fantastic office armchair! In the Zerosedici family you find Zerosedici swivel chair, a task seat with a modern design and innovative look, able to ensure prestige and excellent comfort. In terms of contemporary operational style, Zerosedici has it all.
2.
match your style with your favourite color, frame and fabric
A wide range of fabrics and leather, different frames and various types of upholstery to choose from guarantee that you can adapt the armchairs to your own design requirements. Despite all the various options, Zerosedici task seat reflects the typical and distinctive features of the Zerosedici family, ensuring a coordinated and innovative image.
3.
we feel you! the correct posture is the key of success
At Leyform, we spend a lot of time working on our computers, this is why we totally understand that sitting well is a major element to success. Zerosedici swivel family armchairs are the best to work efficiently since they make you feel great and relaxed. Zerosedici seat is a design office chair that reveals who you are; your office must reflect your personality and your ambition.
ZEROSEDICI TRASK ARMCHAIR IN AR+
View Zerosedici task armchair for for home-office with augmented reality. Select your device, frame the area of interest from your IOS or Android phone and click to place Zerosedici task armchair in the space*.
Apple Ios Safari
Android Browser
*Compatible with iPhone 6S or higher and Android smartphones that support the ARCore app.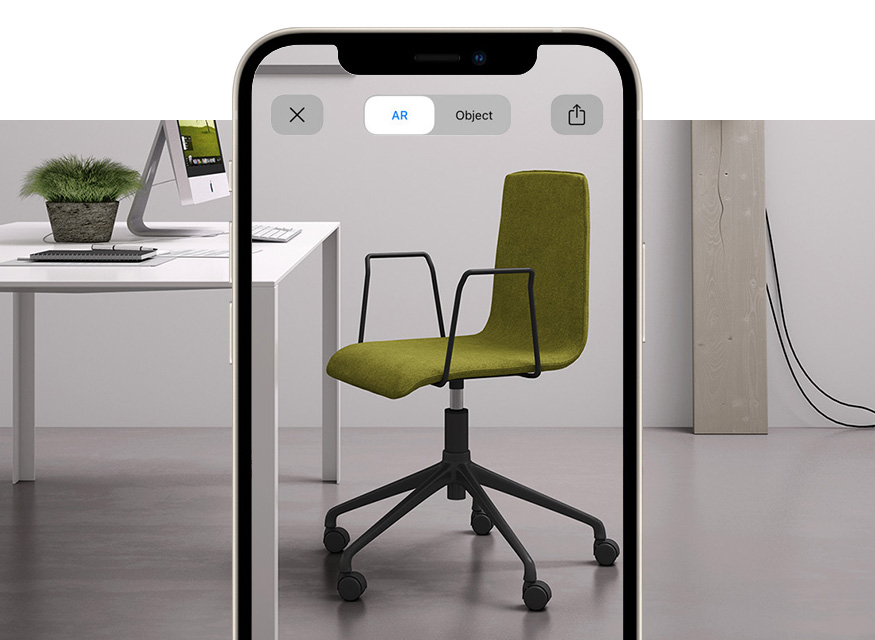 DETAILS
IMAGES AND EMOTIONS
Uses, characteristics, functionality and peculiarities.
Behind every successful work project there is a modern swivel chair
Thanks to Zerosedici swivel family you will find the perfect one for you, the one that will make you feel special. Sometimes working in an office is hard, but details are important and can easily help you working in better conditions, taking care of your back for example. Are you looking for a padded, stackable or swivel armchair? With Zerosedici family the options are unlimited and you will find for sure the best design office chairs for your need.
Read more...