4 LEGS STOOL WITH FOOTREST FOR CUSINE BAR ISLAND
MODERN DESIGN STOOL FOR HOTEL, BAR, RESTAURANT
USED FOR:

HOME-OFFICE, KITCHEN, PUBLIC AREAS, LIVING ROOMS, GAME ROOMS, HOTEL, RESTAURANT, BAR

FEATURES:

MODERN AND UNIQUE STYLE, COmFORTABLE SEAT, EASY TO CLEAN, LIGHT STOOL, STACKABLE, WITH FOOTREST

AVAILABLE COVERS:

FIRE RETARDANT FABRIC, ECO-LEATHER, real LEATHER, PVC, VIRGIN WOOL
Zerosedici 4 legs stool
Zerosedici 4 legs stool with footrest is ideal for bars or modern kitchen islands. Zerosedici is a dynamic and comfortable stool that becomes the protagonist of the environment at home or in public areas like bars and pubs, furnishing the space with style and design while giving maximum comfort thanks to its footrest. There are four common kinds of stools: table, counter, bar and extra-tall bar stools; from the kitchen to a game room, Zerosedici bar stools offer easy and efficient seating for all counters or table high seats. Zerosedici 4 legs stool with footrest it's the perfect choice for cuisine, bar island and game rooms.
1.
high quality for every kind of home or public environment
In Zerosedici collection you can find the bar stool that best suits your home, office, pub, restaurant, cafe' or diner area. The number of styles and options are limitless to fit your kitchen, bar or game room with high quality counter high stools and chairs.
2.
customizable choose among 300 colors and upholstery covers
Zerosedici bar stools are great for easy seating, giving you the freedom to move around in the chair. Many people wish to have the style of their bar stool matching the decor of their home. Zerosedici 4 legs stool family offer a wide selection of bar stools in a variety of materials to meet every need.
3.
comfort&balance it's exactly the stool you're looking for!
Creating the perfect dining area in your home or bar can be challenging if you aren't sure of what type of stools you are looking for. One component of dining or game furniture that you may be looking to incorporate are bar stools, which come in a variety of finishings depending on your counter and table style.
ZEROSEDICI STOOL IN AR+
View Zerosedici Stool for bars and pubs island with augmented reality. Select your device, frame the area of interest from your IOS or Android phone and click to place Zerosedici Stool in the space*.
Apple Ios Safari
Android Browser
*Compatible with iPhone 6S or higher and Android smartphones that support the ARCore app.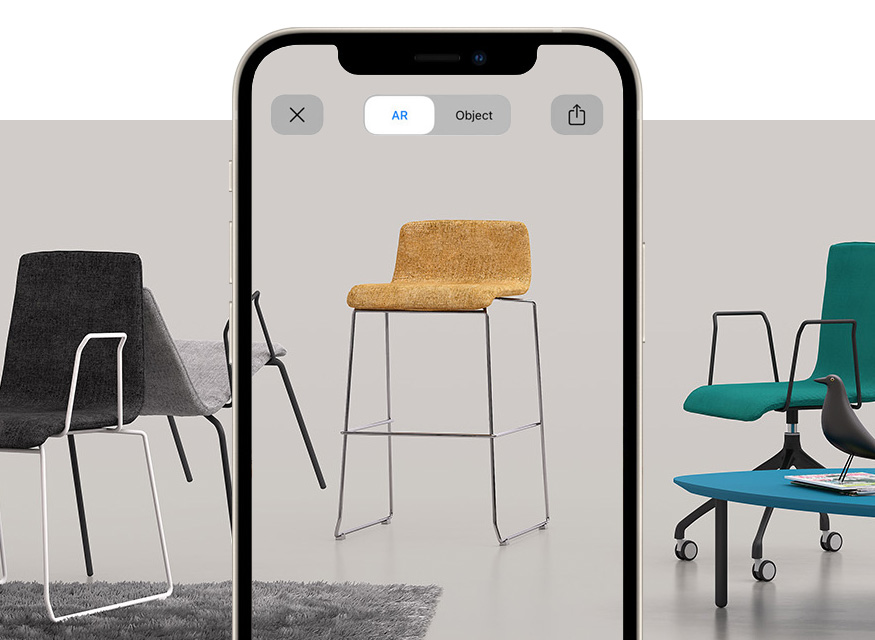 DETAILS
IMAGES AND EMOTIONS
Uses, characteristics, functionality and peculiarities.
Read more...
Four legs bar stools for kitchen, pub and game room
4-leg stool with footrest, ideal for bars or modern kitchen island
Dynamic and comfortable stool that becomes the protagonist of the space at home or in public areas
From table to counter, bar, game and extra-tall bar stools, Zerosedici stools offer easy and efficient seating for all these environments
Minimalist and streamlined design for maximum relax and seating comfort
Bar stools that come in a variety of finishings depending on your counter and table style
Barstools that are great for easy seating, giving you the freedom to move around in a game room, bar or home kitchen
A stool family that offer a wide selection of bar stools with footrest in a variety of materials and finishes
Similar stools, bar stools, counter stools
Bar and counter swivel stools wit vinyl seat Punto
|
Four legs stools for kitchen island MyStool
|
Swivel stools with metal seat/back LaMia
|
Stools and bar stools for kitchen island Samba
|
Stool for cashier workstations Saloon
|
Stools to decorate bars, snack bar and breack fast areas I-Like
|
4 legs stools with footrest for cusine and snack bar island Zerosedici
|
Modern bar stools with padded seat Zerosedici Wood Stool
Similar stools, bar stools, counter stools by purpose
Seating and bar stools for contract and home
|
Chairs for catering and fastfood
|
Chairs for bar pub restaurant fastfood
|
Chairs and stools for hotel contract and home
|
Chairs for restaurant lunchrooms, lounges and breakrooms