MODERN 4 LEGS BAR STOOL WITH FOOTREST
COMFORTABLE STOOL WITH PADDED SEAT
USED FOR:

HOME-OFFICE, KITCHEN, PUBLIC AREAS, LIVING ROOMS, GAME ROOMS, HOTEL, RESTAURANT, BAR

FEATURES:

MODERN AND UNIQUE STYLE, COMFORTABLE SEAT, EASY TO CLEAN, LIGHT CHAIR, STACKABLE, WITH FOOTREST

AVAILABLE COVERS:

FIRE RETARDANT FABRIC, ECO-LEATHER, REAL LEATHER, PVC, VIRGIN WOOL
Zerosedici wood stooL
Zerosedici Wood Stool - designed by the Architect Simone Bolzan - completes the Zerosedici collection continuing to develop the modern line of the family. Zerosedici Wood Stool with padded seat perfectly suits hotel receptions, lounge bar, cafeterias, restaurants and other commercial but also domestic environments where a touch of modern design is needed. In simple words, thanks to its elegance and minimal design, Zerosedici wood stool with padded seats is suitable for many different locations, from office or home to commercial activities as hotels or pubs. As all the Zerosedici collection chairs, Zerosedici Wood Stool with padded seat is available in many different options such as black, white or chromed base and the beechwood seat natural painted in beechwood or Oak veneer with horizontal veins.
1.
the perfect choice to create a cozy atmosphere in your home
Stools are surely the ideal product to create a friendly environment at home, while feeling like you are in a bar or cafe'. Comfortable, resistant and with a modern design, Zerosedici Wood stool with fixed back can also have an upholstered seat pad.
2.
modern&original to decorate every private room or public area
This beautiful stool can give an original and modern style to your home, office, bar, pub, cafeteria, restaurant or hotel. Just imagine a dining room lightened by the bright colours of the Zerosedici Wood stool with our many different fabrics and colours.
3.
reliability and quality are our main key words
Zerosedici Wood is not just about design, as our entire production is laboratory tested to ensure the maximum in terms of quality and safety. In fact, Zerosedici Wood Stool complies with strict European standard for safety, comfort, strength and durability.
ZEROSEDICI WOOD STOOL IN AR+
View Zerosedici wood stool with footrest for cusine, bars and pubs island with augmented reality. Select your device, frame the area of interest from your IOS or Android phone and click to place Zerosedici wood stool wih footrest in the space*.
Apple Ios Safari
Android Browser
*Compatible with iPhone 6S or higher and Android smartphones that support the ARCore app.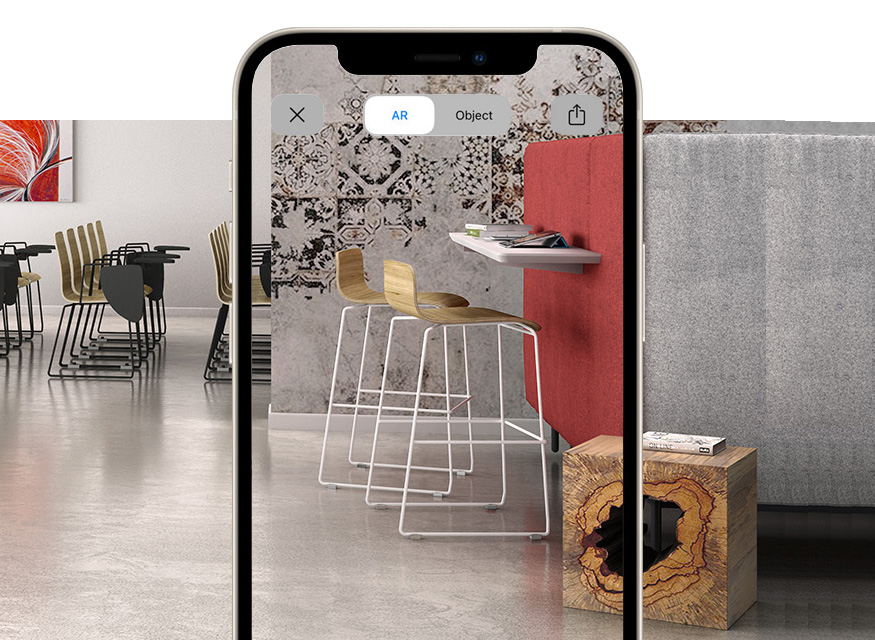 DETAILS
IMAGES AND EMOTIONS
Uses, characteristics, functionality and peculiarities.
Zerosedici Wood Stool with upholstered seat pad, suitable for every situation
With the new Zerosedici Wood stool, we give you the opportunity to transform a domestic environment into a friendly location, perfect to welcome friends and guests to spend enjoyable time. Wood Stool Zerosedici without backrest has been designed by Arch Bolzan for Leyform to ensure adaptability to every situation in home or commercial environments, giving at the same time a unique design. Every location deserve an element that valorizes it, and Zerosedici Wood stool is that type of element with its modern design and ability to be functional thanks to the many different versions available.
Read more...
Design Wooden stools for modern domestic and commercial environments
Versatile and modern style stools
Wood stools perfect to supply hotels, bars, cafeterias, pubs but also domestic environments
From table to counter, bar, game and extra-tall bar stools, Zerosedici bar stools offer easy and efficient seating for all these environments
Stools in natural painted beechwood or oak colour shell, and chromed or epoxy coated black or white frame
Wooden stools with upholstered seat pad in fire retardant fabric, artificial or genuine real leather
Modern design Stools to create a friendly environment at home and feel like being in a bar, pub or cafe'
Stools that are stackable up to 5 pieces and suitable for different types of use
Stackable Wood Stool designed to keep a correct posture and ensure high comfort
Wood continues to be the favourite material to realize stools, even more if we think about modern design stools. Zerosedici Wood Stool with upholstered seat pad allows to keep a good posture and it has the footrest to optimize the comfort. The shell is large and comfortable with an ergonomic surface that helps to keep the best position to prevent back pain. Zerosedici Wood Stool is perfect not only for domestic use but definitely suitable for bars, pubs, hotels and many other commercial locations. Besides the minimalist and fine design, Zerosedici Wood is also practical and stackable up to 5 pieces.
Similar stools, bar stools, counter stools
Bar and counter swivel stools wit vinyl seat Punto
|
Four legs stools for kitchen island MyStool
|
Swivel stools with metal seat/back LaMia
|
Stools and bar stools for kitchen island Samba
|
Stool for cashier workstations Saloon
|
Stools to decorate bars, snack bar and breack fast areas I-Like
|
4 legs stools with footrest for cusine and snack bar island Zerosedici
|
Modern bar stools with padded seat Zerosedici Wood Stool
|
Colourful bar-stools with minimal and modern style Ocean
Similar stools, bar stools, counter stools by purpose
Seating and bar stools for contract and home
|
Chairs for catering and fastfood
|
Chairs for bar pub restaurant fastfood
|
Chairs and stools for hotel contract and home
|
Chairs for restaurant lunchrooms, lounges and breakrooms