Reef, visitor and lounge meeting chairs
a timeless armchair for waiting and conference areas
USED FOR:

OFFICE FRONT DESK, VISITORS, GUESTS, MEETING, CLIENTS, RECEPTION, BOARDROOM , LOUNGE

FEATURES:

SLED BASE, MODERN AND ELEGANt DESIGN, STACKING, COmFORTABLE FOR LONG OR SHORT WAITING

AVAILABLE COVERS:

FIRE RETARDANT POlYESTER FABRIC, PVC, VINYL, SIMILIAR LEATHER, FULL GRAIN LEATHER, VIRGIN WOOL
reef meeting chair
Harmonious curves and minimal style, Reef meeting chair: a timeless armchair for waiting and meeting areas with comfortable and enveloping lines. Unbelievable comfort and design, a multi-purpose executive meeting armchair that you can customize and adapt to your lifestyle. Really for all tastes. Bring your work team to the table with Reef conference room and meeting armchairs. New contemporary design helps conveying your brand and culture, while ergonomic conference chairs offer performance in frequently used spaces.
1.
high quality italian meeting chairs for executive offices
Here at Leyform, we know that when it's time to decorate an office entrance or waiting area, everyone wants to have the best furniture. So, as an Italian-owned and operated office seating company, we strive to enable you to access the best-manufactured waiting and lounge chairs.
2.
refinement and care in a prestigious but essential armchair
The Visitor and Meeting chair is an essential seating solution that is used around the world in office main entrances and waiting areas. Over the years, these chairs have been designed for lounge rooms and waiting areas for clients to sit and be comfortable.
3.
exclusive seat customizable with many colorful upholsteries
Visitor chairs can have many different shapes and designs, from the 4 leg frame to the sled base, with or without arms. Meeting chairs are often used for a long time, so comfort and support are extremely important.
REEF VISITOR ARMCHAIR IN AR+
View REEF visitor armchair for meeting and conference table with augmented reality. Select your device, frame the area of interest from your IOS or Android phone and click to place REEF visitor armchair in the space*.
Apple Ios Safari
Android Browser
*Compatible with iPhone 6S or higher and Android smartphones that support the ARCore app.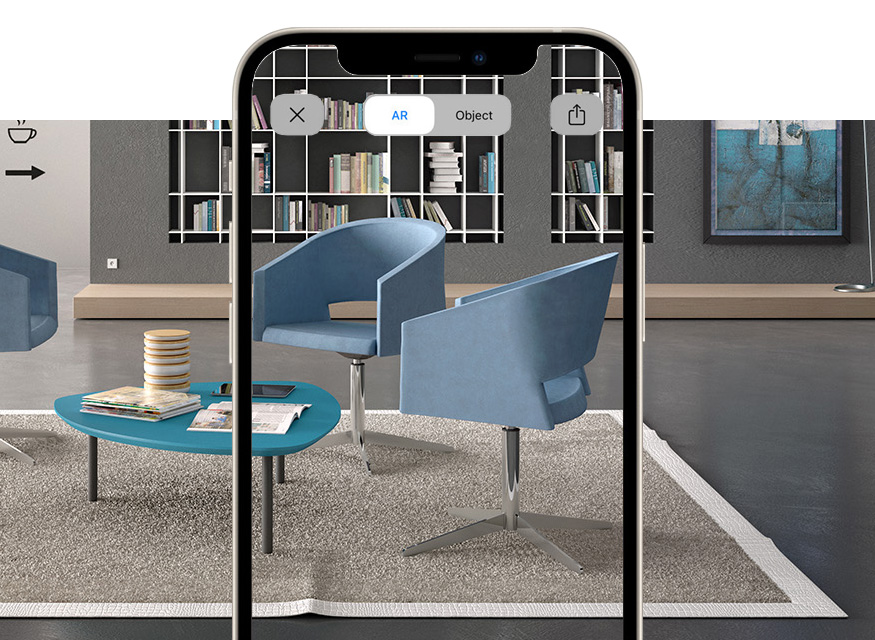 DETAILS
IMAGES AND EMOTIONS
Uses, characteristics, functionality and peculiarities.
Reef, visitor and lounge meeting chairs for executive offices
When you run a new business, you must anticipate guests, customers, visitors and clients coming to your premises to potentially set up alliances and strike deals that will enable you to thrive and grow. It is commonly known that a person?s handshake says a lot about her, but - as far as your workplace is concerned - the appearance and atmosphere you create holds the same way. Therefore, it important to pay close attention from the visitor chairs in your reception area to the cleanliness of your floors. Read more...
Armchairs to host guests in executive offices and sophisticated lounges
Modern design visitor chairs to welcomes customers, guests and visitors and take important decisions with them
Visitor seating used for wating areas and lounges or around a meeting table
Softly padded welcome guests chair that ensure adequate posture during a meeting with customers or collaborators
Armchairs designed to host customers, visitors, patients in executive or managerial office enviroments
Swivel armchairs that can be used in prestigious offices but also for sophisticated lounges and entrances
Modern armchairs for guests and visitors to enhance the elegance of small, medium and large waiting lounges
Impressing clients and visitors with modern design lounge chairs
What?s more, for those that engage with their customers in their place of business - for example in the health and medical fields - having comfortable guest chairs is a great way to instil the kind of atmosphere that you want to promote in your work environment. Furthermore, when your customers or visitors notice that you have invested in modern design waiting chairs with a brand new look, this gives them confidence that you not only are successful, but you intend to stick around and want to ensure their future comfort.
Similar visitors and reception board room chairs
Modern office guest conference chair Opera
|
Conference room chairs for office and meeting rooms Cosmo wooden legs
|
Cantilever visitor office chairs for office desk LaiLa relax
|
Visitor cantilever reception stacking chair Spot
|
Visitor sled base armchair with mesh Wiki-RE Relax
|
Guest and visitor chair with arms Wiki Relax
|
Visitor cantilever chairs with mesh Cometa Relax
|
Design visitor lounge and reception chair Samba
|
Cantilever office visitor chair Time
|
Visitor and lounge meeting chairs Reef
|
Chairs for meeting and conference table IPA
|
Modern 4 legs armchair for waiting and meeting room Claire
Similar reception board room chairs by purpose
Chairs for meeting rooms
|
Visitor and reception room chairs
|
Sled base stacking chairs |
Seating and reception room sofas
|
Seating and visitor meeting room chairs
|
Chairs and stools for hotel contract and home
|
Armchairs and sofas for nursing, rest home, hotels and medical centres
|
Stacking chairs for hotel congress and lecture church hall
|
Chairs for bar, pub, restaurant and fastfood
|
Stackable chairs for catering and fastfoods