elegant swivel chairs to welcome clients
Modern guest chairs for executive offices
USED FOR:

OFFICE FRONT DESK, VISITORS, GUESTS, MEETING, CLIENTS, RECEPTION, BOARDROOM , LOUNGE

FEATURES:

SLED BASE, MODERN AND ELEGANt DESIGN, STACKING, COmFORTABLE FOR LONG OR SHORT WAITING

AVAILABLE COVERS:

FIRE RETARDANT POlYESTER FABRIC, PVC, VINYL, SIMILIAR LEATHER, FULL GRAIN LEATHER, VIRGIN WOOL
opera visitor
Opera visitor armchairs family has been developed for executive office environments. A line of modern armchairs to be used in front of high-back executive armchairs or around a meeting table. Opera boasts ergonomic functions and very high quality materials. Undoubted is the attention to details: dual colors for upholstery, contrast stitching and the enveloping line offer large and comfortable flexibility of the seat. Opera swivel guest armchair is height adjustable, in order to find the most comfortable position; ergonomic adjustments are possible through levers which are fully integrated into the seat and easily accessible. With these peculiaritiese, Opera is definitely worthy of fitting executive office environments.
1.
high quality visitor chair for prestigious offices
Perfect to host visitors in small, medium and large executive offices, Opera family's guest and conference room chairs are designed to welcome customers, visitors and clients. It's highly comfortable in order to ensure adequate posture so as to prevent back pains during meetings.
2.
refined design opera, one of our most excellent armchairs
Opera armchairs for visitor and guest represent the heart of Leyform's elegance: discover the taste of touching, caressing and admiring the materials, and perceiving the value of time in the daily contact of these seats. Shells and seats are softly padded with real leather, imitation leather, wool or fireproof fabric.
3.
exclusive seat customizable with many different upholsteries
Opera guest armchairs enhance the elegance of any office or home environment thanks to its curves and exclusive design. The upholstery in wool, fireproof fabrics or full grain leather is available in more than 300 colors. Opera's family of conference and executive office chairs is the result of a careful selection of the finest materials.
OPERA VISITOR ARMCHAIR IN AR+
View Opera visitor armchair with augmented reality. Select your device, frame the area of interest from your IOS or Android phone and click to place Opera in the space*.
Apple Ios Safari
Android Browser
*Compatible with iPhone 6S or higher and Android smartphones that support the ARCore app.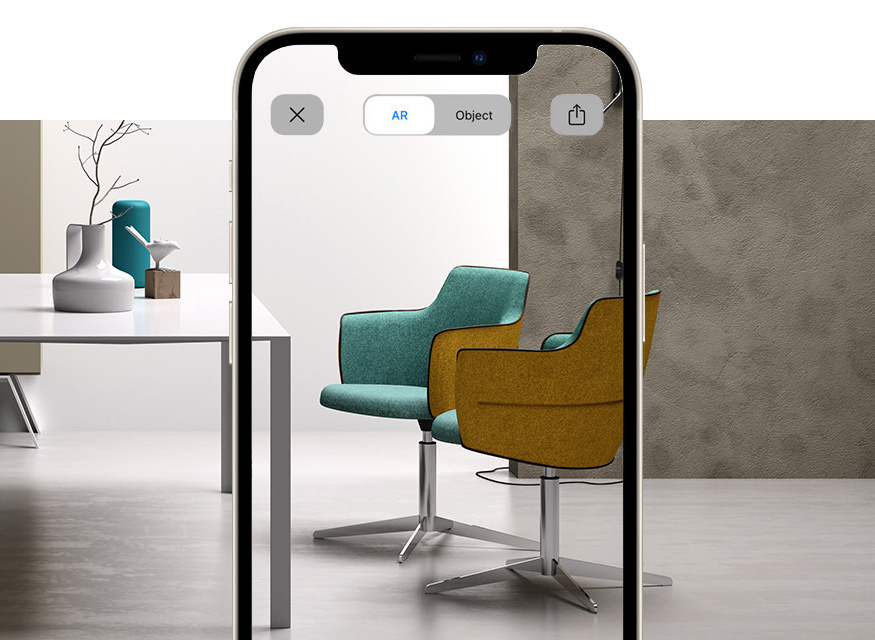 DETAILS
IMAGES AND EMOTIONS
Uses, characteristics, functionality and peculiarities.
Modern guest chairs to host visitors in executive offices
Opera visitor chairs has been developed for management and executive environments that need comfortable seating to welcome customers and collaborators during a meeting. Opera is ideal not only in prestigious work offices, but also for sophisticated domestic areas ( in living rooms as well as in home reading corners and libraries ) where this model adds a distinctive touch and ensures maximum comfort. Furthermore, the four spokes chromed stainless steel base gives stability to the solid design of this armchair. Read more...