Chairs for meeting and conference table
a strong and colorful plastic monocoque
USED FOR:

OFFICE FRONT DESK, VISITORS, GUESTS, MEETING, CLIENT'S RECEPTION, BOARDROOM , LOUNGE

FEATURES:

SLED BASE, MODERN AND ELEGANt DESIGN, STACKING, COmFORTABLE FOR LONG OR SHORT WAITING

AVAILABLE COVERS:

FIRE RETARDANT POlYESTER FABRIC, PVC, VINYL, SIMILIAR LEATHER, FULL GRAIN LEATHER, VIRGIN WOOL
ipa
In a private office or in a conference room, IPA swivel chair with monocoque plastic shell for meeting and conference desk helps you make the difference; modern design and height adjustment control by gas lift make even your meeting more enjoyable and comfortable. A sophisticated design, a strong plastic monocoque structure and many configuration of the shell and base colours. IPA swivel chairs for meeting and conference table is all this, a combination of elegance, design and comfort that leads you, your employees and guests throughout your workplace and thanks to its design and functionality will make every meeting enjoyable.
1.
design and comfort combined together in this unique monocoque chair
Not any chair works well around a conference table. Conference room chairs and boardroom chairs should be rather "low profile" in height and adapt well to the various users that will use them. It is important to have simple meeting chairs that are still comfortable even after several hours of meeting/presentation.
2.
customizable with many finishes and colors to choose from
Are you looking for a chair that can offer style and comfort? Leather, fire retardant fabric, similar leather or wool: you can choose the finishes that best suit your taste from our wide collection. Our IPA swivel monocoque conference room chairs are specifically designed for meeting rooms and are available with 5 or 4 star base, with castors or glides.
3.
professional and dynamic image to your conference room
Boardroom seating helps to create an immediate image of prestige and professionalism. IPA monocoque conference chair will surely make a good impression of your company to clients, guests and employees. Ipa has a modern design that can easily match and improve your existing set up and create an environment that matches your company's culture and brand.
IPA VISITOR ARMCHAIR IN AR+
View IPA visitor armchair for meeting and conference table with augmented reality. Select your device, frame the area of interest from your IOS or Android phone and click to place IPA in the space*.
Apple Ios Safari
Android Browser
*Compatible with iPhone 6S or higher and Android smartphones that support the ARCore app.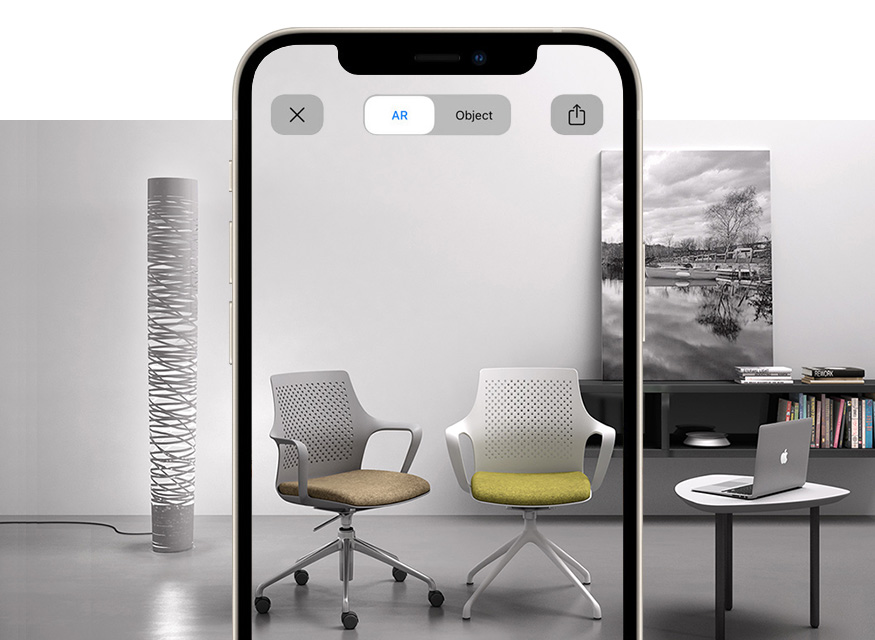 DETAILS
IMAGES AND EMOTIONS
Uses, characteristics, functionality and peculiarities.
Meeting and conference room chairs for employees and guests
A conference room can be small or large depending on the different purpose they have been designed for. Wheatear it is for quick meeting with colleagues or important conferences with the company board, they usually have a table or desk in the center with chairs all around. Some conference rooms can be more dynamic and used for different purposes like interview room, collaborative workspace or training room but chairs remain a constant, paying attention to the comfort and functionality other than the design. Today, many companies with small spaces available often use their conference or meeting room as a multi-purpose space, making functionality and ease of handling two major features, and the best way to implement both is to invest in a product like IPA meeting and boardroom chair. Its modern and compact design will not only save space, but will also increase the efficiency of the conference room layout. Read more...