plastic chairs with wooden legs
Meeting seats with a unique and enveloping style
USED FOR:

OFFICE FRONT DESK, VISITORS, GUESTS, MEETING, CLIENTS, RECEPTION, BOARDROOM , LOUNGE

FEATURES:

SLED BASE, MODERN AND ELEGANt DESIGN, STACKING, COmFORTABLE FOR LONG OR SHORT WAITING

AVAILABLE COVERS:

FIRE RETARDANT POlYESTER FABRIC, PVC, VINYL, SIMILIAR LEATHER, FULL GRAIN LEATHER, VIRGIN WOOL
cosmo - 4 wooden legs
Also known as meeting room chair, the wooden 4-legged Cosmo chair is made of a polypropylene monocoque with a minimal and modern design combined with the optional padded panel on the seat for a greater seating comfort. The end result is a chair with a unique style designed to be placed inside rooms - or around meeting tables - for assemblies, meetings, conventions, boardroom directors, conferences, etc. Cosmo 4-leg wooden chairs have been developed for those who have to sit for long time around a prestigious meeting table ; for this reason, in addition to having a polypropylene shell with an enveloping design, Cosmo 4 legs is also ideal to offer comfort to your guests and collaborators.
1.
ergonomic and enveloping plastic shell with wooden legs
Cosmo 4 legs conference chair can add charm to any meeting room; in fact it is designed to offer comfort and ergonomics even if it doesn't features adjustment mechanisms that you find in office chairs with castors for office and workstation use.
2.
modern design chair for contemporary meeting rooms or events
This unique monocoque plastic chair with wooden legs is perfect for meeting tables, conferences and conventions as it offers comfort and enough seating space between people during the event.
3.
elastic backrest able to help you keeping a good posture and relax
Cosmo 4-legged wooden conference chairs help keeping a correct posture and the back in a good position. The plastic shell has an enveloping structure which provides an attention that is completely dedicated to the business meeting.
CONFERENCE ROOM ARMCHAIR COSMO IN AR+
View the monocoque chair with wooden legs Cosmo with augmented reality. Select your device, frame the area of interest from your IOS or Android phone and click to place the monocoque chair with wooden legs Cosmo in the space*.
Apple Ios Safari
Android Browser
*Compatible with iPhone 6S or higher and Android smartphones that support the ARCore app.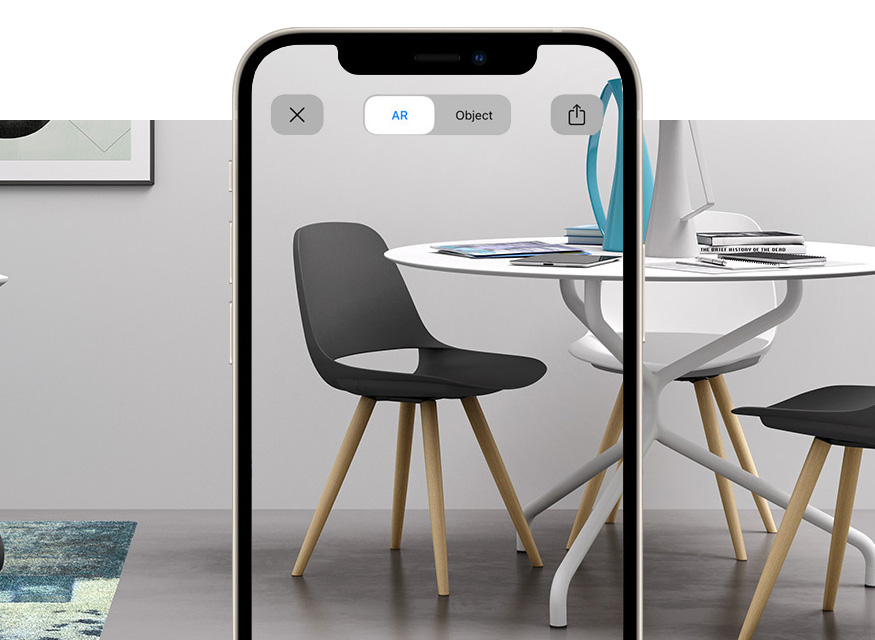 DETAILS
IMAGES AND EMOTIONS
Uses, characteristics, functionality and peculiarities.
A useful choice to improve productivity and attention in meetings
Cosmo 4-leg chair with wooden legs is a useful choice to improve productivity and attention of participants in meeting rooms or around a meeting table. Contemporary and minimal design for Cosmo with 4 wooden legs gives maximum versatility and features a classic style with a modern twist; the polypropylene monocoque shell ( available colors: rust, sage, grey, linen, anthracite, white ) with padded seat presents a new cut, able to combine comfort and design by offering a modern and elegant piece of furniture for conferences and meetings. Cosmo 4-legged wooden armchair can have a comfortable padded seat covered with fireproof fabric, leather, eco-leather or wool; the 4-leg structure is made of solid wood and equipped with practical anti-slip and scratch-resistant glides. Read more...