CONTEMPORARY DESIGN OFFICE CHAIRS
EXECUTIVE ARMCHAIRS FOR MODERN OFFICE FURNITURE
USED FOR:

HIGH END MODERN OFFICE FURNITURE, MINIMAL DESIGN DESK, CONTEMPORARY STYLE OFFICES

FEATURES:

MODERN AND MINIMAL DESIGN CHAIR, WITH ARMS, SWIVEL WITH ADJUSTABLE SEAT, WITH HEADREST, AVAILABLE AS VISITOR, WITH CASTORS

AVAILABLE COVERS:

FIRE RETARDANT FABRIC, PVC, VINYL, ECO-LEATHER, FULL GRAIN LEATHER, VIRGIN WOOL
origami in
Introducing Origami IN, an ergonomic and sinuous chair with a classic but always contemporary design. It offers several adjustment options and customizable features to furnish your workspace as you prefer. ORIGAMI IN is a swivel chair with chromed frame and it is part of ORIGAMI collection. The peculiarity of this model is that it features a single soft upholstered pad, a contemporary polished aluminium base and 65 mm diameter swivel castors. Like other models of ORIGAMI family, it is available in high back and low back versions, both equipped with a knee-tilt mechanism, locks in 4 positions or free tilting + anti-shock backrest device; a visitor chair with sled base completes the range.
1.
Manager?s armchair for executive and presidential offices
ORIGAMI-IN, the timeless elegance of lines and forms conceals a modern spirit, dedicated to the well-being of the user. ORIGAMI-IN is beauty and ergonomics, technology and tender embrace.
2.
high quality tailor-made prestigious italian product
The ORIGAMI-IN design redefines the concept of swivel chair, which features high quality tailoring. A high level of prestige, style and quality which culminate in the President high back version.
3.
refined style with modern shapes and essential design
A modern line encounters classic workmanship in this manager's chair, developed to enhance meeting rooms or accommodate your guests in your office with the greatest comfort.
EXECUTIVE ARMCHAIR ORIGAMI IN IN AR+
Executive armchair for president's office, boardroom and conference rooms Origami IN with augmented reality. Select your device, frame the area of interest from your IOS or Android phone and click to place Origamni IN presidential armchair in the space*.
Apple Ios Safari
Android Browser
*Compatible with iPhone 6S or higher and Android smartphones that support the ARCore app.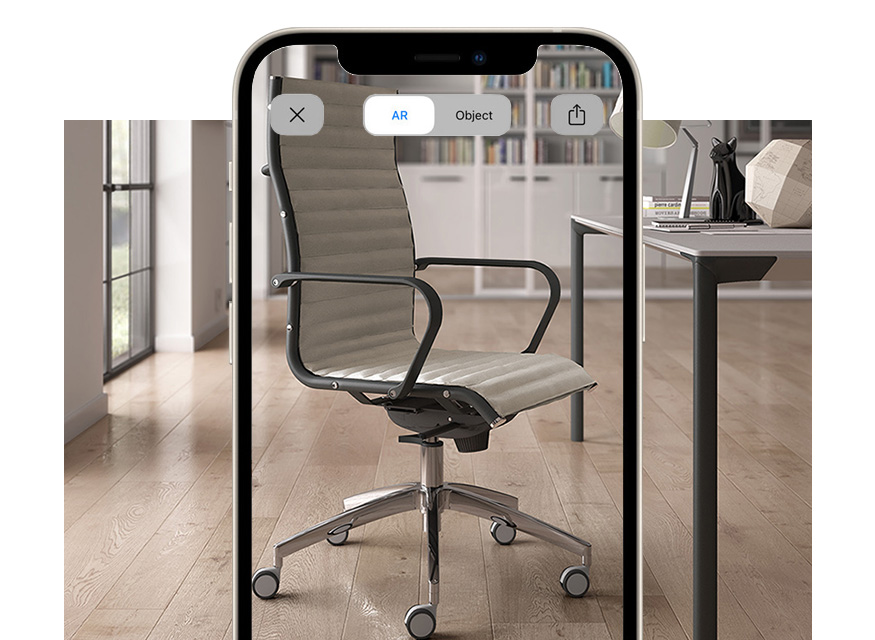 DETAILS
IMAGES AND EMOTIONS
Uses, characteristics, functionality and peculiarities.