CONTEMPORARY DESIGN OFFICE CHAIRS
EXECUTIVE ARMCHAIRS FOR MODERN OFFICE FURNITURE
USED FOR:

HIGH END MODERN OFFICE FURNITURE, MINIMAL DESIGN DESK, CONTEMPORARY STYLE OFFICES

FEATURES:

MODERN AND MINIMAL DESIGN CHAIR, WITH ARMS, SWIVEL WITH ADJUSTABLE SEAT, WITH HEADREST, AVAILABLE AS VISITOR, WITH CASTORS

AVAILABLE COVERS:

FIRE RETARDANT FABRIC, PVC, VINYL, ECO-LEATHER, FULL GRAIN LEATHER, VIRGIN WOOL
origami td
Once more, the look is the strength of Origami collection. Origami TD: seat and back widely separated, high-quality finishes and a modern ergonomic design. Leyform's ORIGAMI-TD office chairs and armchairs family combines the original shapes and functionality that are necessary in a workspace and meeting tables into a harmonious environment. Design, ergonomics and essentiality are three cornerstones in the production of Leyform's ORIGAMI-TD executive, visitor and meeting room chairs and armchairs: here, technology and innovation take care of providing the comfort of the employees. ORIGAMI TD office seating and visitor chairs family is formed by a steel-chromed frame and polished aluminium arms.
1.
top quality product, totally and carefully made in Italy
Modern structure with an unmistakable style, an ergonomic design for extreme seating comfort and quality seat components for a long life. ORIGAMI-TD executive, board and meeting room chair uses fixed aluminium armrests and polished aluminium base as a standard feature, expressing an ideal combination of design choices without compromise.
2.
separate seat and back cushions of genuine leather or fabric
ORIGAMI TD is a collection of office chairs featuring high-quality finishes combined with soft leather or fire retardant fabric upholstery, whose technical characteristics make it the perfect ergonomic seat. The ORIGAMI-TD executive swivel chair with castors can be equipped with different tilt mechanisms, which follow the user's movements.
3.
adjustable to help you keeping the correct posture
ORIGAMI-TD contemporary design chair and armchair responds comfortably to the needs of each user, gently adapting itself to any position and minimising the user's effort to maintain or change posture. It helps each person to keep the correct posture during work, thanks to its design and tilt mechanism with different adjustments.
ORIGAMI TD LEATHER ARMCHAIR IN AR+
Origami TD leather office chairs for executive, board room and conference room offices with augmented reality. Select your device, frame the area of interest from your IOS or Android phone and click to place the leather armchair Origami TD in the space*.
Apple Ios Safari
Android Browser
*Compatible with iPhone 6S or higher and Android smartphones that support the ARCore app.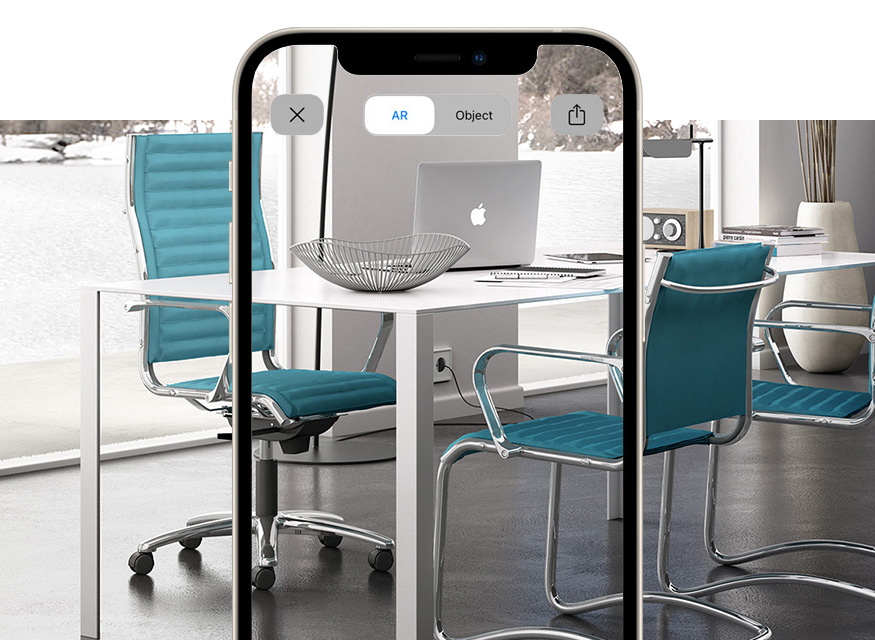 DETAILS
IMAGES AND EMOTIONS
Uses, characteristics, functionality and peculiarities.
ORIGAMI-TD high back office seating, visitor and meeting room seats
Origami TD for contemporary design offices is available with an off-centred tilt mechanism, locks in 7 positions + anti-shock backrest return, or with a 1-lever tilt mechanism + anti-shock backrest device. Visitor seats and chairs for meeting table can be on 5 star base/glides and automatic return device with shock absorber or sled base. The waiting benches complete the collection and are suitable to be used on large traveling areas like waiting lounges of hotels or airports.
Read more...