CONTEMPORARY DESIGN OFFICE CHAIRS
EXECUTIVE ARMCHAIRS FOR MODERN OFFICE FURNITURE
USED FOR:

HIGH END MODERN OFFICE FURNITURE, MINIMAL DESIGN DESK, CONTEMPORARY STYLE OFFICES

FEATURES:

MODERN AND MINIMAL DESIGN CHAIR, WITH ARMS, SWIVEL WITH ADJUSTABLE SEAT, WITH HEADREST, AVAILABLE AS VISITOR, WITH CASTORS

AVAILABLE COVERS:

MESH, FIRE RETARDANT FABRIC, VINYL, ECO-LEATHER, FULL GRAIN LEATHER, VIRGIN WOOL
origami rx
The new entry in the Origami collection. Origami RX combines the modern mesh backrest with the comfortable upholstered seat, responding to the needs of a dynamic workspace. This model completes the collection of ORIGAMI chairs for executive offices and benches for waiting rooms and entrances with a mesh + padded seat version. ORIGAMI-RX swivel armchair can be used for presidential and directional offices and it is available with high or low backrest + tilt mechanism. This mesh armchair is equipped with self-braking castors for hard floor (marble and tile); you can have soft swivel castors for wooden floors on request. The bench and visitor versions for doctors' waiting rooms, lawyers entrances and receptions, notaries offices, doctors' front desk etc. complete the family.
1.
versatile chair for any executive or managerial environment
The executive armchairs family ORIGAMI-RX includes models with a contemporary design and chrome steel frame. Origami RX is mainly used by lawyers, notaries, doctors, etc. but it generally finds place into all modern executive offices.
2.
italian product made with top quality materials and tested
This chair with high back uses seat height adjustment by gas lift with a knee tilt mechanism. Chromed aluminium armrests combined with the European standards EN 1335 compliance allow the best comfort and ergonomics for the body.
3.
mesh backrest ensures a breathable and ergonomic armchair
Seat and back consist of a synthetic mesh with a padded panel fixed on the seat, to guarantee a better comfort. Available also with sled base - for visitors, front-desk or meeting rooms - and on bench for entrances, receptions and waiting rooms.
ORIGAMI RX MESH HIGH BACK CHAIR IN AR+
Origami RX high back mesh armchair for executive offices with augmented reality. Select your device, frame the area of interest from your IOS or Android phone and click to place The high back mesh armchair Origami RX in the space*.
Apple Ios Safari
Android Browser
*Compatible with iPhone 6S or higher and Android smartphones that support the ARCore app.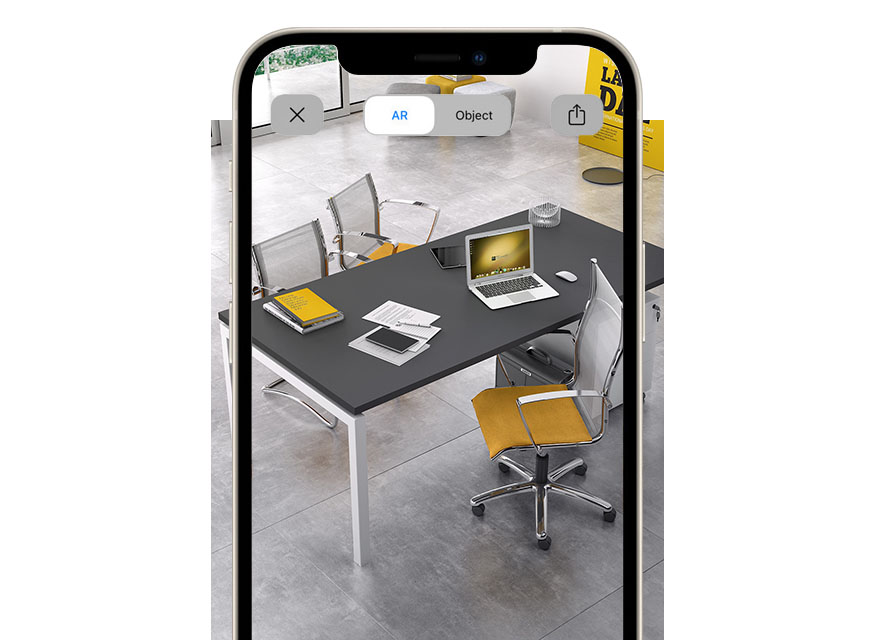 DETAILS
IMAGES AND EMOTIONS
Uses, characteristics, functionality and peculiarities.