CONTEMPORARY DESIGN OFFICE CHAIRS
EXECUTIVE ARMCHAIRS FOR MODERN OFFICE FURNITURE
USED FOR:

HIGH END MODERN OFFICE FURNITURE, MINIMAL DESIGN DESK, CONTEMPORARY STYLE OFFICES

FEATURES:

MODERN AND MINIMAL DESIGN CHAIR, WITH ARMS, SWIVEL WITH ADJUSTABLE SEAT, WITH HEADREST, AVAILABLE AS VISITOR, WITH CASTORS

AVAILABLE COVERS:

FIRE RETARDANT FABRIC, PVC, VINYL, ECO-LEATHER, FULL GRAIN LEATHER, VIRGIN WOOL
origami cu
As introduction to the Origami collection, we present the "CU" version, a sober and timeless chair combining functionality and strength. It is offered as a directional seating range with generous padding, with a focus on aesthetic and comfort. ORIGAMI CU is a leather office chair with a chromed steel frame and polished aluminium arms; the style is unmistakable and the careful attention of expert hands grants additional value to a class product, thus achieving the perfect compromise between functionality and design. It is equipped with a slightly off-centred tilt mechanism which can be locked in 7 positions by a push-button system, with anti-shock backrest device and tension control.
1.
expert hands able to create top quality italian products
Modern design combined with prestigious finishings, functionality and ergonomics to create ORIGAMI-CU, a timeless chair that dresses the environment with refinement and care. The outstanding attention to the stitching that enhance the quality of the details identifies the typical manual skills of Leyform.
2.
prestige & class with a rich padding giving maximum comfort
Office chair for executive and meeting offices: Origami CU features an exclusive chromed steel frame with no visible side screws as well as fixed armrests of chromed die cast aluminium with upholstered arm top pads, plus a generous seat and backrest padding for enhanced comfort.
3.
a complete range including visitor seats to welcome your guests
ORIGAMI-CU represents a family of chairs in which you can find exclusive design office chairs with steel frame and polished aluminium arms and seats for waiting areas and lounges. Visitor and lounge chairs are available in different combinations with sled base, 4-star base and glides and 5 star base with automatic return piston.
ORIGAMI CU EXECUTIVE ARMCHAIR IN AR+
Origami CU executive armchair for high-end offices and meeting rooms with augmented reality. Select your device, frame the area of interest from your IOS or Android phone and click to place The executive armchair Origami CU in the space*.
Apple Ios Safari
Android Browser
*Compatible with iPhone 6S or higher and Android smartphones that support the ARCore app.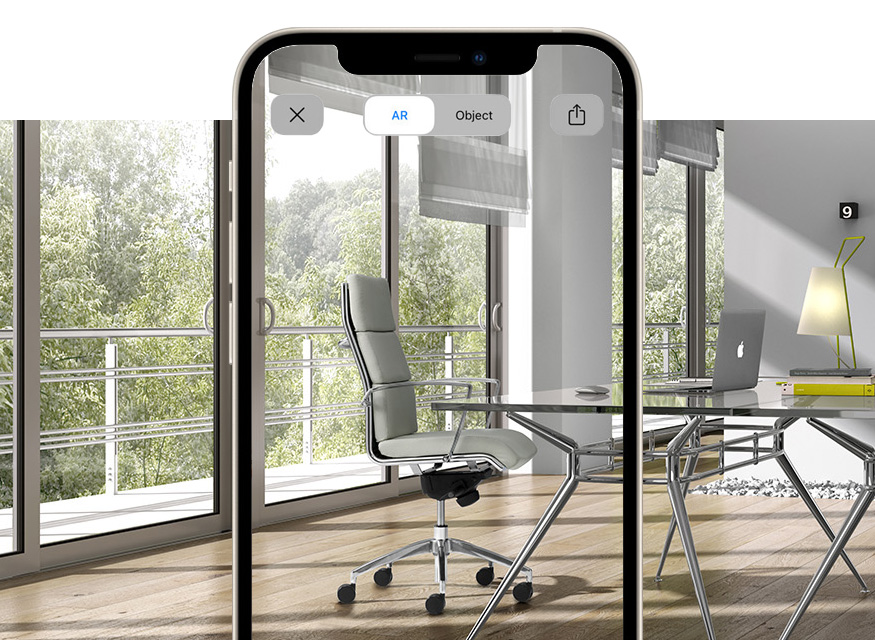 DETAILS
IMAGES AND EMOTIONS
Uses, characteristics, functionality and peculiarities.