ERGONOMIC OFFICE ARMCHAIRS
A type "A" EN 1335 task chair that defies conventional office schemas
USED FOR:

OFFICE, TASK AND OPERATIONAL WORKSTATION, PRODUCTION AREAS, GENERAL WORKPLACE AREAS

FEATURES:

ERGONOMIC, SYNCHRO MECHANISM, ANTI-SHOCK BACKREST, LUMBAR SUPPORT, TENSION CONTROL, ADJUSTABLE SEAT, ARMS, CASTORS / WHEELS, HEADREST

AVAILABLE COVERS:

FIRE RETARDANT FABRIC, PVC, VINYL, SIMILIAR LEATHER, FULL GRAIN LEATHER
ACTIVE
Active chair defies conventional schemas: is it a chair for office enviroments or home offices? Does it fulfill specific functions? While developing "Active" chair, Leyform developed such ideas in order to create a relaxed, home-like ambience for workers in office and coworking settings. Active's appealing design is contemporary with a unique style, inspiring a sense of trust. Its ergonomic structure it's ensured by a syncro mechanism and total comfort it's guaranteed by the padded seat, back and headrest granting a relaxing influence and de-accelerating the fast-paced dynamic life of modern office enviroments. Seat and back enveloping shaped cushions work together with the technical functions to ensure a high level of ergonomics and comfort.
1.
the newcomer ergonomic chair with the best value for money
Active. The range stands for the latest milestones in office chair development; for the first time Leyform has succeeded in perfectly synchronising ergonomic user seating experience with human bodies. Active office chair with arms offers superb design and an extensive seating family that caters to virtually all requirements.
2.
full-optional many accessories and colors to choose from
The backrest height is adjustable by 60 mm (with optional headrest), the main features are: different upholstery covers (fire retardant fabric, pvc, vinyl, similiar leather, full grain leather) and different types of armrests (fixed or adjustable), lumbar support, adjustable sliding seat and polished aluminium or polypropylene base.
3.
tested chair perfect for public bids and private offices
Moreover, Active office chair has been tested according to european standard EN 1335 type "A". For all the previous reasons, Active is suitable for a wide variety of settings where high functional performance makes it an ideal choice for modern coworking enviroments, task office workplaces as well as home offices.
ACTIVE TASK ARMCHAIR WITH ARMS IN AR+
View Active task armchair with arms and headrest with augmented reality. Select your device, frame the area of interest from your IOS or Android phone and click to place Active Task amrchair in the space*.
Apple Ios Safari
Android Browser
*Compatible with iPhone 6S or higher and Android smartphones that support the ARCore app.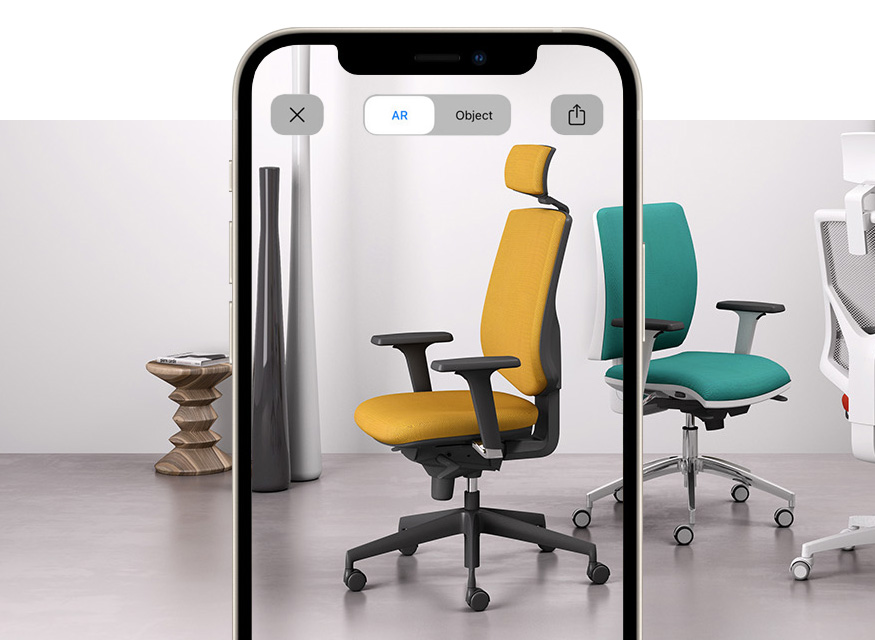 DETAILS
IMAGES AND EMOTIONS
Uses, characteristics, functionality and peculiarities.
A new task seating concept
Thanks to its new task seating concept, Active office chair with arms discreetly conceals the necessary functional features of an office chair: the synchronised mechanism is adjustable by a lever, the adjustability of seat height and depth, and the adjustable backrest. The stout backrest support frame made of robust plastic ensures a constant correct seating posture enabling the separate movement of seat and backrest transfering the load forces to the mechanical unit under the seat. Active is an office swivel chair tested in accordance with European standard EN 1335 type "A" with built-in 5 years warranty for all mechanical parts. Read more...