office chairs and armchairs for modern workspaces
Office chair with mesh and a minimalist design and style
USED FOR:

OFFICE, TASK AND OPERATIONAL WORKSTATION, PRODUCTION AREAS, GENERAL WORKPLACE AREAS

FEATURES:

ERGONOMIC, SYNCHRO MECHANISM, ANTI-SHOCK BACKREST, LUMBAR SUPPORT, TENSION CONTROL, ADJUSTABLE SEAT, ARMS, CASTORS / WHEELS, HEADREST

AVAILABLE COVERS:

FIRE RETARDANT FABRIC, PVC, VINYL, SIMILIAR LEATHER, FULL GRAIN LEATHER
active-re
The Active-RE mesh armchair is a major new offering from the Leyform's office chair company. It's light as a feather, ultra-modern design, stylish, and it's comfortable and environmentally responsible. There?s no need to compromise on aesthetics when you are looking for Active-RE. This modern and minimal stylish mesh office chair brings elegance to your home or office workplace - with a few ergonomic benefits. Match a bright work interior with a swivel mesh chair Active-RE in fire retardant fabric or ecoleather, propped up on mesh for the back . Be futuristic with an eco-sustainable Active-RE ergonomic swivel chair featuring white or black mesh, syncro-tilt recliners, adjustable lumbar supoport, headrest, 2-D or 3-D adjustable arms, unique lever to adjust seat and back position, nylon castors and polished aluminium or polypropilene base. Update your modern home office desk in fine form, with our Active-RE comfortable and contemporary style office armchairs, tested EN 1335 type "A".
1.
mesh backrest design office chair with lumbar support
Comfort, utility, ergonomic and aesthetic appeal are all important for a modern style office environment , and Active-RE mesh office chair definitely meets all these requirements. It provides comfort for long days with adjustable lumbar support and fire retardant upholstered cushion for the seat.
2.
adjustable mechanism and height, to be suitable for everyone
Its mixture of angles and curves add a subtle yet distinctive beauty to any office room, and its unique handle to adjust the chair is hidden within its trunk. The white or black mesh for the back of the Active-RE armchair fits the curves of the human body.
3.
made-in-italy with our experience of ergonomic office chairs
According to the spine, Active-RE supports the important position of the waist, with high-density foam for upholstered seat, soft and skin-friendly breathable and comfortable mesh fort the back, integrated adjustable 2-D and 3D armrests forever in line with the natural posture of the back.
ACTIVE-RE MESH ARMCHAIR IN AR+
View Active-RE mesh armchair for operational offices with augmented reality. Select your device, frame the area of interest from your IOS or Android phone and click to place Active-Re mesh amrchair in the space*.
Apple Ios Safari
Android Browser
*Compatible with iPhone 6S or higher and Android smartphones that support the ARCore app.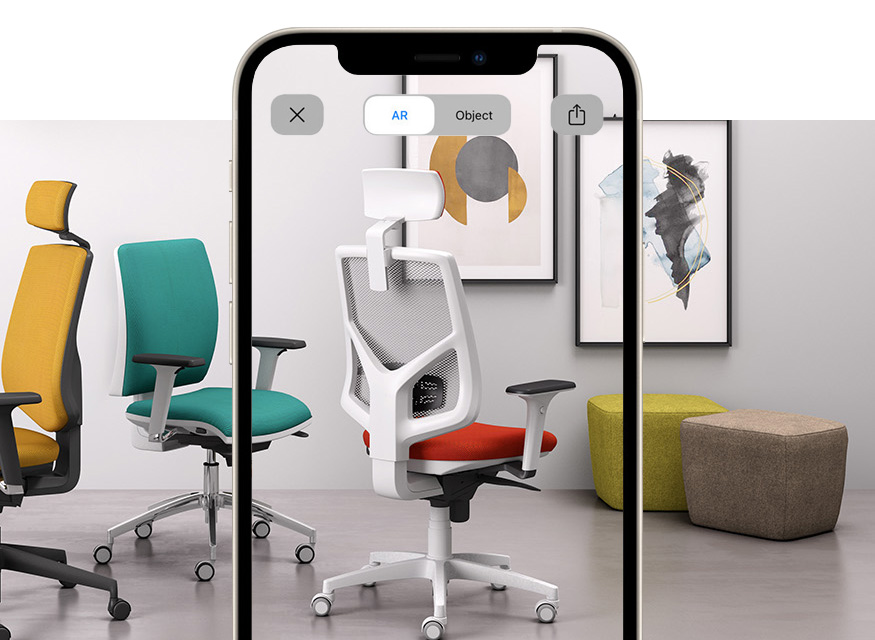 DETAILS
IMAGES AND EMOTIONS
Uses, characteristics, functionality and peculiarities.
Active-RE, modern and ergonomic design with a competitive price
At the start of project, Leyform's basic assignment was to create a mesh armchair with a modern and ergonomic design, and with a competitive price; the end result is a swivel chair that does more in every modern office enviroment. More support with aestetic and design, more comfort with fewer adjustments and little - but comfortable - padding for the seat; a streamlined production process that makes the armchair unique and affordable. The Active-RE mesh chair is what happens when you bring the look and the technology behind the design and ergonomics; the result is comfortable, supportive and light. The beautiful and impressive back of the chair is constructed of transpirant and flexible mesh that culminates in a confortable seat at the bottom. Read more...
Ergonomic and aesthetic appeal mesh office armchair
Light as a feather mesh armchair, ultra-modern design, stylish, comfortable and environmentally responsible
Modern and minimal stylish mesh office chair that bring elegance to your home or office workplace
Comfortable and - thanks to optional white mesh on the back - contemporary style office swivel armchairs, testen EN 1335 type "A"
Mesh swivel armchairs featuring 2-D or 3-D adjustable arms, lunbar support, headrest, great ergonomic and aesthetic appeal
New ergonomic mesh armchair that, according to the curve of the spine, supports the important position of the waist
A swivel mesh armchair that does more in every modern office enviroment
Completely disassembled chair, easier to recycle using less space in landfills
One great thing about using as eco-sustainable material as you can in a chair is that it's easier to recycle completely and it takes up less space in landfills even if you don?t recycle. Active-RE mesh chair was designed, as is every product at Leyform, to be environmentally responsible and safe. Leyform's production facility has been EN 14001 enviromental certification that produce the chair are low-to-zero emissions, the plastics and metals in the chair are recyclable, and the shipping is recyclable and re-usable as well.
Similar task office chairs for workstations
Task office chair with arms tested EN 1335 Type "A" Active
|
Mesh task office chair with minimal design and style Active-RE
|
Task office chair with arms tested EN 1335 Type "A" Active
|
Mesh task office chair with minimal design and style Active-RE
|
Modern design monocoque swivel chair Cosmo
|
Hight back task office chairs Sprint-X
|
Stools for cashier workstation Saloon
|
Task office chairs and seats for office furniture DD2
|
Task office chairs for home DD4
|
Ergonos-w-lumbar-support-sprint.html" title="Task office chairs with lumbar support Sprint">Task office chairs with lumbar support Sprint
|
Task office chairs with mesh on the back Sprint-RE
|
Task office chairs with metal seat and back LaMia
|
Task office chair with castors Confort Jolly
|
Task office chairs with arms for office workstations Dattilus
|
Home office design swivel task armchairs Zerosedici
|
Breathable office chair with soft-touch cushions Star-tech
|
Modern task office chair with breathable mesh and fabric Star
|
Laboratory chair with recyclable plastic for hospitals and clinicd Ocean
Similar office chairs for workstations by purpose
Armchair for office furniture |
Seating and executive leather chairs
|
Chairs for call centers and office workstations
|
Ergonomic seating for executive offices
|
Meeting rooms sofas for waiting rooms
|
Ergonomic chairs for offices and workstations
|
Leather chairs for executive offices
|
Waiting room visitor chairs and armchair
|
Task office swivel chairs
|
Mesh office chairs