MODERN DESIGN STOOLS AND BAR STOOLS
BREAKFAST AND KITCHEN ISLAND COUnTER STOOLS
USED FOR:

MODERN DESIGN RESTAURANT, HOTEL, KITCHEN ISLAND, CONTEMPORARY STYLE BREAKFAST BAR

FEATURES:

EXCLUSIVE ICONIC DESIGN, EASY TO CLEAN, COmFORTABLE SEAT, FOOTSTEP, GLIDES

AVAILABLE COVERS:

FIRE RETARDANT FABRIC, PVC, VINYL, ECO-LEATHER, VIRGIN WOOL
Samba Wood Stool
Add a touch of style to your bar counter or kitchen counter with brand new Samba Wood Stool with footstool, perfect for domestic use at home or professional in pubs and bar. Samba Wood Stool by Leyform is a vintage style stool with a unique design and it's a strong character of the entire collection that gives originality to the environment being at the same time practical to clean. Thanks to its height and durability, the vintage style Samba Wood Stools perfectly fit with modern domestic environments and snack bar, pubs and clubs but also restaurants and hotels. Get conquered by the comfort and vintage design of Samba Wood Stool, this new collection is not only comfortable due to the footstep but it is also a unique decorative element in either domestic or professional environment like pub, club and bar.
1.
wooden stool to decorate your bar or kitchen island
The bar stool is important for the aspect of a pub, bar or home kitchen. It gives style and personality, so you need to do an accurate choice for the perfect bar stool. New Samba Wood Stool designed by Leyform follows up the already extended Samba collection.
2.
vintage design a natural element to complete your furniture
Now the "Samba" family has a brand new vintage stool, equipped with the same bases of the upholstered version but with a bit of additional lightness. Simplicity is the common denominator, making it a modern and minimal vintage design element.
3.
original and comfortable made-in-italy wooden stool
Samba Wood Stool is a wooden bar stool, particularly suitable for restaurants, hotels and pubs. Its style perfectly matches with the other furniture, adding a bit of originality thanks to its design and comfort.
VINTAGE DESIGN SAMBA WOOD STOOL IN AR+
View the vintage wooden stool Samba for bar and kitchen island with augmented reality. Select your device, frame the area of interest from your IOS or Android phone and click to place Samba wood stool in the space*.
Apple Ios Safari
Android Browser
*Compatible with iPhone 6S or higher and Android smartphones that support the ARCore app.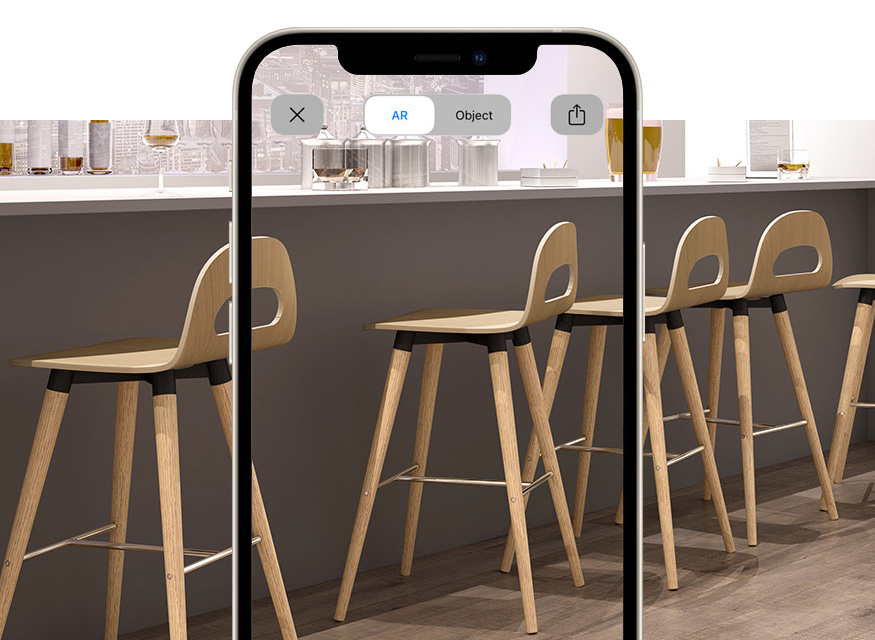 DETAILS
IMAGES AND EMOTIONS
Uses, characteristics, functionality and peculiarities.
the perfect mix between comfort, functionality and design in a vintage style
Versatility and elegant vintage design are some of the features that better describes new Samba Wood Stool designed by Leyform. The wooden bar stool Samba Wood Stool it's perfect for restaurants, hotels, pubs and bars but also domestic environments. Samba wood stool is made of a beechwood curved multilayer seat in natural or oak veneer natural painted. The frame can be in chromed sled base, chromed tubular version or wooden legs every version with the footrest to maximize the comfort. The new Samba Wood Stool is the perfect fusion between functionality and comfort with a catching design and unique style. Samba Wood Stool is a must have for a design lover and an iconic stool thanks to its distinctive characteristics. Read more...
Samba Wood Stool: choose a vintage style for your home, pub, club and bar
Bar stool with footstepin vintage style for your bar, pub, home kitchen, hotel and living areas
High wooden bar stool to give originality and practicability to environments such as domestic living area, hotels bar, pubs and clubs thanks to its unique design
Wooden bar stool with an exclusive vintage design and comfort, perfect for domestic and professional environments such as clubs, restaurant, bar and pubs
Bar stool in beechwood curved multilayer seat in natural or oak veneer (with horizontal veins), natural painted without any solvent
Bar stool with footstep equipped with glides to improve floor protection
Wooden bar stool available in chromed sled base version, wooden legs version or chromed tubular version
Similar stools, bar stools, counter stools
Bar and counter swivel stools wit vinyl seat Punto
|
Four legs stools for kitchen island MyStool
|
Swivel stools with metal seat/back LaMia
|
Stools and bar stools for kitchen island Samba
|
Stool for cashier workstations Saloon
|
Stools to decorate bars, snack bar and breack fast areas I-Like
|
4 legs stools with footrest for cusine and snack bar island Zerosedici
|
Breakfast bar stools for kitchen islands Samba
|
Vintage wooden stools for bar and kitchen island Samba Wood
|
Colourful bar-stools with minimal and modern style Ocean
Similar stools, bar stools, counter stools by purpose
Seating and bar stools for contract and home
|
Chairs for catering and fastfood
|
Chairs for bar pub restaurant fastfood
|
Chairs and stools for hotel contract and home
|
Chairs for restaurant lunchrooms, lounges and breakrooms