DESIGN CHAIRS FOR LOUNGES, ENTRANCES AND WAITING AREAS
MODERN ARMCHAIRS To SUPPLY HOTEL LOBBY AND ENTRANCES
USED FOR:

HOTEL LOBBY, MAIN ENTRANCE, MANAGERIAL AREA, LIVING ROOM, LOUNGE, BEDROOM, STUDIO, OPEN-SPACE, READING CORNER

FEATURES:

CONTEMPORARY STYLE, ENVELOPING DESIGN, RELAXING, COMFORTABLE, IDEAL FOR READING A BOOK OR LISTENING TO MUSIC, WITH FOOTREST

AVAILABLE COVERS:

FIRE RETARDANT FABRIC, SIMILAR LEATHER, ECO-LEATHER, FULL GRAIN LEATHER, VIRGIN WOOL
LIZZY
The relax armchair Lizzy with ottoman footrest has been designed for people who require taste, style and comfort from a chaise longue. Leyform designers have taken care of every detail of the seat, from the ergonomic shape of the seat, backrest and footstool, the support cushion for the back-lumbar area to the made in Italy upholstery (leather, wool or fireproof fabric) and to the polished steel base that make this relax lounge chair a unique piece of its kind. Lizzy is perfect for a moment of relaxation in the most stressful days as it is extremely comfortable thanks to the optional high density foam padded cushions. Lying on the lounge relax armchair Lizzy will break the daily routine by turning a moment of stress into a special moment where you can relax by reading the pages of a book or listening to music.
1.
ELEGANt chaise longue with a unique style
Style, elegance and comfort of the seat for a comfortable lounge chair with ottoman pouf. The relax armchair Lizzy is something personal that cannot be renounced; Lizzy is suitable for entrance, sitting room, living room, reading corner, lounge or bedroom and it gives character to the furniture turning it into a place for relax thanks to its ottoman pouf.
2.
RELAXING comfortable relax lounge chair
The line of the armchair Lizzy has been inspired by the old English club armchairs, updating the design, dimensions and structure to make it more spacious, relaxing and comfortable. The goal is to create a high quality relaxation lounge chair that allows you to read a book or listen to music in absolute tranquility.
3.
enveloping to furnish living room, entrance, hotel lobby
The lounge chair Lizzy is perfect for living rooms, entrances, halls and bedrooms, adapting to contemporary, industrial or vintage furnishings. Lizzy is characterized by a cozy and warm design, it is available with or without armrests, lumbar cushion and upholstery ranging from leather, real leather, to wool, artificial leather or fireproof fabric.
DETAILS
IMAGES AND EMOTIONS
Uses, characteristics, functionality and peculiarities.
LIZZY LOUNGE ARMCHAIR IN AR+
View Lizzy relax lounge armchair for reading and listen to music with augmented reality. Select your device, frame the area of interest from your IOS or Android phone and click to place Lizzy in the space*.
Apple Ios Safari
Android Browser
*Compatible with iPhone 6S or higher and Android smartphones that support the ARCore app.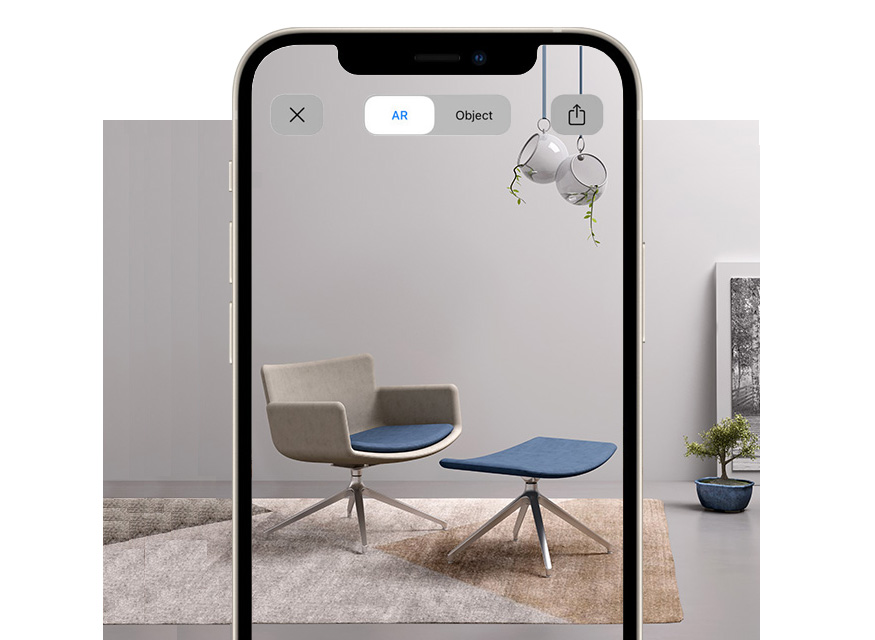 WIDE AND LOW LOUNGE ARMCHAIRS FOR ENTRANCE, LIVING ROOM, OPEN-SPACE
Lizzy is a chaise longue armchair with a low and wide seat combined with a footrest of the same size; the seat was designed by Leyform as a relaxing corner where you can read a book or listen to music during days of high stress or on weekends.
Read more...
Lizzy has been designed for furnishing the entrance, lounge, living room, bedroom, open space for the public and residential areas; the shell is cold-foamed upholstered in wool, fireproof fabric, real leather or antibacterial imitation leather. The double needle stitching of the Lizzy cushions underline the wide and enveloping shape that ensures a comfortable position for this dynamic and refined seat at the same time.
Designed for people who require taste, style and comfort from a chaise longue
Comfortable and stylish chair thanks to the top quality finishes and its large structure
Chaise longue with support cushion for the back-lumbar area
Lounge chair to take a moment of relaxation in the most stressful days
Large and low armchair for listening to music or reading a book in the hall, bedroom, lounge, living room or dining room
Lizzy, an armchair that revisits the classic English club chair in a modern way
With the relax chair for lounge Lizzy by Leyform, we wanted to revisit the classic English club chair with ottoman pouf in a modern way; the goal was to satisfy the desire for an armchair with large proportions that would bring together the most absolute comfort and the best quality materials and workmanship with a more current, lighter and more comfortable line than the traditional one. The large proportions have remained unchanged, but the comfort has significantly increased and the choice of upholstery and finishes makes Lizzy a relaxing lounge chair with ottoman pouf that adapts to any type of furniture, be it classic or modern.
Sizes and dimensions of Lizzy, the relax lounge armchair with ottoman pouf:
Seat depth

59

cm

Armrest height

22

cm

Seat height from the ground

43

cm

Backrest height from the ground

78

cm

Total width with armrests

85

cm

Ottoman pouf width

76

cm

Ottoman pouf depth

54

cm

Ottoman pouf height

44

cm

Net weight

18

kg

Covers

Pure virgin wool, leather, eco-leather, fireproof polyester

Seat and back

Cold foamed

Base material

Polished aluminum or chromed steel

Furnishing types

Industrial, Nordic, vintage, contemporary
Others waiting sofas armchairs for lounges
Colorful poufs and ottomans with modern design Victoria
|
Breakout sofas for waiting and public areas LIV
|
High back lounge sofas for office open spaces Around
|
Modern design waiting sofa with usb plug charger Around
|
Sofa benches with USB charger for shops waiting room Around
|
High back meeting pod sofas for privacy and silent areas Around Lab Around
|
Contemporary design lounge sofas for office and waiting rooms KOS
|
Wooden waiting and living room sofas Woodline
|
Living room wooden frame sofas Meeting
|
Wooden sofas for waiting rooms areas Wood-b
|
Reception and conference tub armchairs Viviana
|
Stacking tub armchairs wit writing tablet Clac
|
Lounge chair seating with footrest Victoria
|
Lounge chair with footstool for waiting areas Samba Plus!
|
Relax lounge chair for reading and listen to music Lizzy
|
Sofa lounge workstation with tablet Around BOX
|
Poufs and ottomans with modern colours and design for open space hall GOGO
|
Modular sofas with linkable seats for open-space hall Around
Similar waiting seats for lounges by purpose
Waiting room armchairs
|
Sled base stacking seating
|
Linking chairs
|
Armchairs and sofas for nursing rest-home and medical centre
|
Lobby and waiting room sofas
|
Seating and reception waiting room sofas
|
Chairs for hotel congress areas and lecture church hall