DESIGN CHAIRS FOR LOUNGES, ENTRANCES AND WAITING AREAS
MODERN ARMCHAIRS TU SUPPLY HOTEL LOBBY AND ENTRANCES
USED FOR:

LOUNGES, HOTEL LOBBY, MAIN ENTRANCES, MANAGERIAL AREAS, DECISION MAKING OFFICES

FEATURES:

MODERN CONTEMPORARY POUF, FOOTREST WITH ROUNDED DESIGN, COMFORTABLE SEAT FOR LONG OR SHORT WAITING TIME

AVAILABLE COVERS:

FIRE RETARDANT FABRIC, SIMILAR LEATHER, ECO-LEATHER, FULL GRAIN LEATHER, VIRGIN WOOL
samba plus
The Samba collection celebrates a new arrival: Samba Plus. A typical lounge chair with footstool which brings new features to broaden the applications of this highly appreciated seat: a comfortable armchair with high back + footstool, a new frame and several base options with the same usual sturdiness and unparalleled line design. The shape of the Samba Plus chair is inspired by the seductive shell of an oyster, and the curved armrests offer users a breathing space in the midst of a busy environment. Similarly to most successful guest design seating Samba, the Samba Plus lounge chair has been designed by Stefano Sandona' and manufactured by Leyform. For someone looking for a place to work undisturbed, Samba Plus offers an inviting retreat.
1.
chaise longue with high back and pouf, for a maximum comfort
A chaise lounge chair with a footstool must support a whole body; furthermore the pouf (or footstool) can be used independently, and used as a small seat for another person elsewhere, with the lounge chair retaining its relaxing function in hotel lounges and waiting areas.
2.
personalize your own armchair for your relax time
Samba Plus chaise longue can be upholstered with fire retardant fabric, artificial leather or real full grain leather upholstery into a metal unparalleled line design shell and supports it on 5 stars aluminium base or 4 legs metal base.
3.
design & comfort to supply lounges and waiting areas
Samba Plus is suitable for many public spaces, such as a hotel lobby, executive office entrances, waiting areas and all the enviroments where it would both be a beautiful object and provide a relaxing and comfortable seat + footstool.
SAMBA PLUS LOUNGE ARMCHAIR IN AR+
View Samba Plus lounge armchair with augmented reality. Select your device, frame the area of interest from your IOS or Android phone and click to place Samba Plus in the space*.
Apple Ios Safari
Android Browser
*Compatible with iPhone 6S or higher and Android smartphones that support the ARCore app.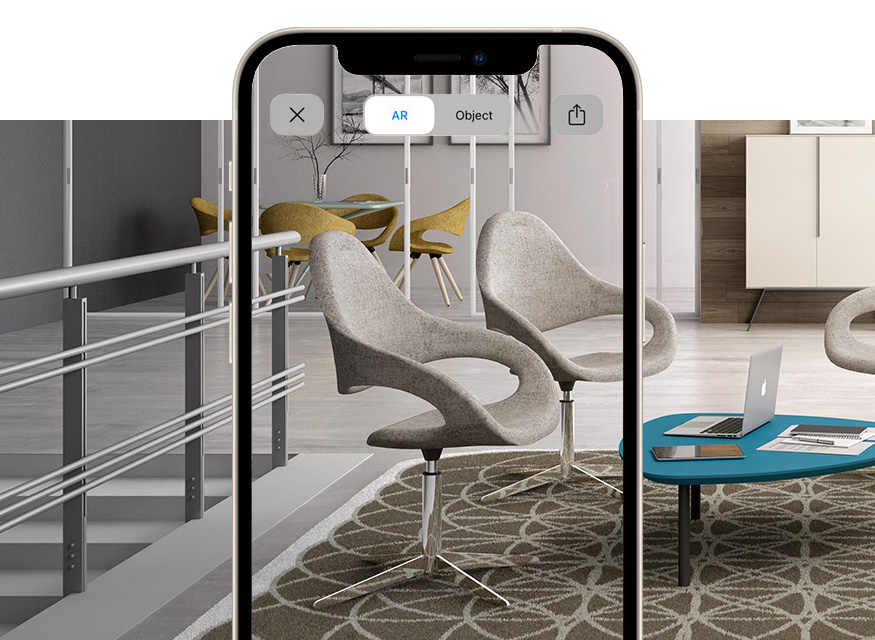 DETAILS
IMAGES AND EMOTIONS
Uses, characteristics, functionality and peculiarities.