DESIGN CHAIRS FOR LOUNGES, ENTRANCES AND WAITING AREAS
MODERN ARMCHAIRS TU SUPPLY HOTEL LOBBY AND ENTRANCES
USED FOR:

LOUNGES, HOTEL LOBBY, MAIN ENTRANCES, MANAGERIAL AREAS, DECISION MAKING OFFICES

FEATURES:

SCANDINAVIAN STYLE, MODERN CONTEMPORARY POUF, FOOTREST WITH ROUNDED DESIGN, COMFORTABLE SEAT FOR LONG OR SHORT WAITING TIME

AVAILABLE COVERS:

FIRE RETARDANT FABRIC, SIMILAR LEATHER, ECO-LEATHER, FULL GRAIN LEATHER, VIRGIN WOOL
victoria
With Victoria lounge chair it is possible to set up ad-hoc lounges where guests and visitors will find armchairs, sofas, ottoman footrests for entertaining comfortably while drinking a cocktail. Victoria lounge armchair can be upholstered with full grain leather, imitation leather ( vinyl ), wool or fabric that can be chosen from Leyform color collection. Lounge chairs are seats designed to bring comfort and relaxation; they are also called chaise longue and are pictured as long reclined chairs. Historically speaking, these chairs were portrayed in Greek mythology as the kind of seats that gods and goddesses used. Over the years, one of the favourite furniture piece for home and office alike have taken many turns. From size, design and even color choice, lounge chairs have been evolving through the years. These days even offices and living rooms have found the convenience having them around.
1.
divine armchair with refined lines and comfortable shapes
Victoria has a formula which has been designed to meet different requirements for contract and waiting areas with a comfortable image, refined and contemporary scandinavian design that allows you to create seating areas for conversation into office open spaces - often uncrowded - to offer cues for stimulating intellectual exchanges.
2.
customizable match your colors to create a unique chair
The generous proportions of the seat and the matching versatility between the frame, seat, finish and color are the features of this lounge chair for reception, waiting and hotel lobby areas. Victoria can be supplied with different finishes such as pure wool, full grain leather, synthetic leather, fabric, etc. to give a strong personality for waiting rooms and lounge enviroments.
3.
"victorian" chair for both modern and traditional environments
Victoria is the family of lounge chairs for waiting areas and lounges designed by Nicola Cacco. Victoria is able to create your very own private space to recharge yourself, a small heaven for your mind and your body. Victoria can find place in bedrooms, offices, hotel lobby, open-space main entrance hall; it has a contemporary design but it can find place also with traditional design furniture.
VICTORIA LOUNGE ARMCHAIR IN AR+
View Victoria lounge armchair + ottoman with augmented reality. Select your device, frame the area of interest from your IOS or Android phone and click to place Victoria in the space*.
Apple Ios Safari
Android Browser
*Compatible with iPhone 6S or higher and Android smartphones that support the ARCore app.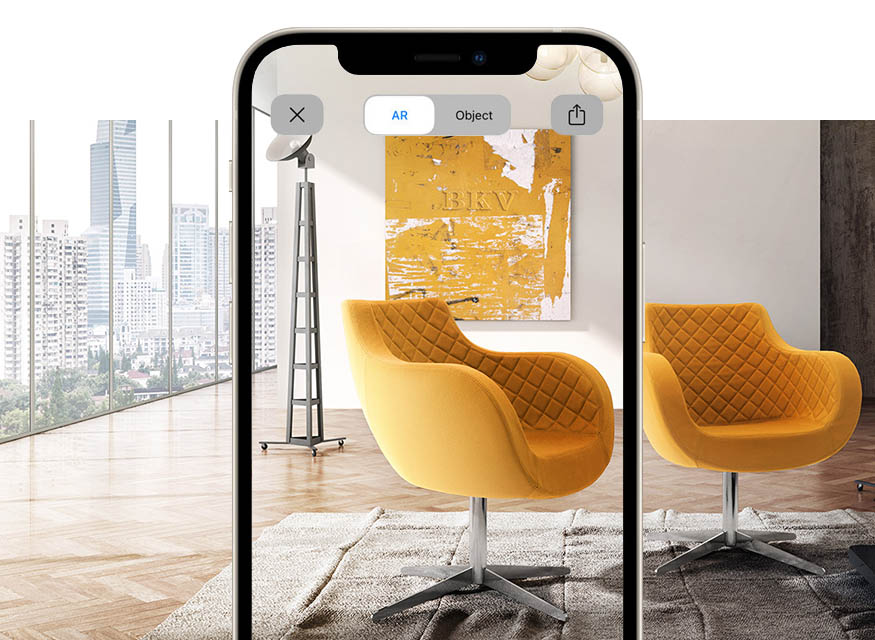 DETAILS
IMAGES AND EMOTIONS
Uses, characteristics, functionality and peculiarities.
Lounge chair for office waiting areas, hotel lobby and design living rooms
Victoria is a lounge armchair that uses a metal structure where seat and backrest are made with injected fire retardant polyurethane foam. Various bases are available: metal or 4 legs painted beechwood. The ottoman footrest uses a wooden structure composed by panels of plywood in poplar. Its line invites you to sit and underlines the unique model coming in 3 backrest hights - high back, middle and lower back + ottoman footrest - that is perfectly suitable to find place for community / waiting areas like airport lounges, hotel lobby or office reception. Read more...